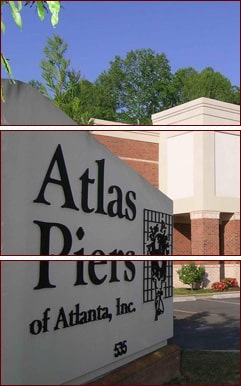 While other companies have entered the market and attempted to incorporate piering as a sideline. We have stuck to what makes us the best choice. We do one thing and we do it well.
Our mission is simple: To serve our clients with their best interests at heart, even if it means diagnosing the problem and eliminating our services. We do this because it is our ultimate desire to glorify God in all that we do, be it personal or professional.
The Atlas Piers team has more than 100 years of combined experience exclusively with foundation support products.
Wayne Farris, President and Owner: With more than 30 years in the concrete and foundation industry, Wayne is a proven leader in foundation support. A native of South Carolina, he attended Francis Marion University on a baseball scholarship. After moving to Atlanta, he began a career in the concrete industry. At a World of Concrete Show he discovered the world of deep foundations and piering and founded Atlas Piers of Atlanta. In his free time, Wayne enjoys studying Biblical Prophecy and devoting time to his wife and three sons.
Chad Costello, Vice President: Chad is a native of Panama City, Florida. Upon graduating from Florida State University, Chad relocated to Atlanta and immediately started his career with Atlas Piers of Atlanta as a Project Supervisor. Over the last 12 years, his determination, work ethic, skills and intelligence each played a major role in his success as he worked his way up the ladder to become the top product representative, vice president and part owner. When he's not working, you can find him spending time with his wife and two children, and on Sunday they are at the Sugar Hill Baptist Church. Chad loves all water sports, but his favorite recreation is found 100′ deep, underwater spear fishing in the Gulf of Mexico.
Tonya Sanders Stewart, Accountant and Administration Manager: Tonya joined Atlas Piers of Atlanta in 2015. She has worked her entire career in accounting and has a Bachelor's degree in Technical Business Management / Accounting. Her experience has made her an incredibly valuable asset to our team. She is married and enjoys playing very bad tennis and scuba diving.
Susan Rambo, Administrative Assistant: Susan came to Atlas Piers of Atlanta after an extensive career in property management along with multiple other managerial roles.  Atlas is honored that Susan is with us.  She is married with grown children and is one of the sweetest people we know.
Floyd Moore, Job Foreman: Transitioning from a 15-year career in the fitness industry, Floyd joined Atlas Piers as a part-time laborer in 2008.   With time, training and certifications he worked his way up to a job foreman position, doing residential and commercial installs.  Floyd has excelled as the job foreman on Atlas Piers's largest job in 2016.  Floyd is married with a son and enjoys all outdoor activities, especially mountain biking, golf, working out and flying.
Sue Swinson:  Sue moved to Georgia 21 years ago from New York, and currently resides in Alpharetta.  Prior to joining the Atlas team, Sue had a career in retail management for 17+ years.   Sue is married with 3 children and 3 fur-babies.  She enjoys gardening, reading and doing DIY projects in her spare time.  Sue is grateful and blessed to be a part of the amazing team here at Atlas Piers!