Frequently Asked Questions – Residential
Here are some FAQ's answered from the professionals at Atlas Piers of Atlanta GA: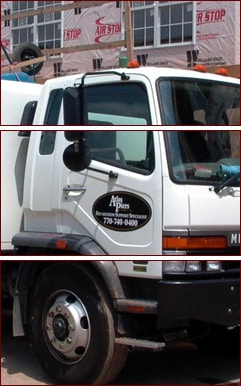 Q: Aren't all piers created equal?
A: NO. Piers are vastly different. Some piers are made in China, some are made in a one man shop, and some are made by world class manufacturers with engineers such as Earth Contact Products. We purchase our piers from the two highest quality and best known manufactures in the piering industry. Each pier is certified and backed by our manufacturer. Don't be fooled into thinking a cheaper pier is okay for your most valuable asset.
Q: Doesn't lifting a house cause more problems? Won't my house be damaged?
A: We lift houses about 75% of the time we install piers. Lifting a house actually relieves the stress placed on your house when it settled. It's an artwork, but it's something we specialize in. If you have gone as far as installing piers, why not get your foundation back to where it was before it settled? We use the strongest products and the best people to restore foundations, so if it can be lifted, we can do it.  Many companies cannot lift a house with their products so they tell you not to lift. We on the other hand offer Atlanta House Raising Foundations and services.
Q: How deep will the piers go? Is the included depth enough?
A: Without doing soil analysis by a Geo-technical Engineer with a drilling rig, it's difficult to say how deep the piers will go. We can tell you that the average depth of piers in the Atlanta metro area is 20-22ft and 70% of the piers we install are less than 30ft.
Q: How many piers do you install per year? What other lines of work is Atlas in?
A: We install between 1,000-2,500 piers per year. We only install steel foundation support products. We decided long ago that we wanted to do one thing and do it well.
Q: I want to use you but your price is higher.  Do you match prices?
A: We understand that price can be a factor in making this decision, but make sure price is not the ONLY thing you consider. We want to be your contractor and think your best long term solution involves Atlas Piers.  We use the highest quality products and trained honest people.  In the event you have a proposal from a competitor where they are stabilizing your home – we will match the terms and price.  When lifting is involved – we understand that no one can lift a structure like Atlas Piers – and we won't cheapen our services to those who claim they can lift – when they can't.
Q: What does the warranty cover?
A: The warranty is a guarantee of no movement at all with no tolerances. It covers the product and the area that was piered. If the product fails because of poor installation or because of a manufacturing defect, we will replace it. If the area we piered fails because of a pier failure, we will make it right. Remember – the warranty is only as good as the company that gives it to you.
Q: Do you have an engineer on staff?
A: We have an engineer on staff, but he is not a licensed design engineer (P.E.). In our mind it is a direct conflict of interest to have an engineer that works for us making recommendations on the repair of your home. We would rather refer an engineer who will look out for your best interest, than have one that might look out for ours. We have a network of P.E. all throughout the South East that we can refer you to.
Points to Remember:
Atlas only installs piers. We don't dabble in it, we specialize in it.
Atlas does not make its piers, it's like a car deal making it's own cars or parts.
Atlas has been installing piers for 20 years. That's 20 years of exclusively piering, not just business. Atlas does have an engineer on staff, but not a design engineer. We feel this is a direct conflict of interest and our engineering community.
For more information call Atlas Piers of Atlanta GA today!