Residential Helical Slab Piers in Atlanta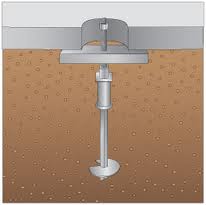 The garage is an important part of any home. It is where we store our belongings and, of course, our cars. Therefore it is necessary that your garage is in the very best condition. If you've been noticing that your garage floor has cracks in it, don't wait to find out what's going to happen! Cracks in your garage slab can be serious and costly, so don't hesitate! We'll offer you a great solution: helical slab piers. If you need residential helical slab piers in your Atlanta resistance, contact Atlas Piers Atlanta.
But why is your slab cracking in the first place? Well, there could be a multitude of reasons. The biggest culprit is actually the soil underneath your garage or patio If the soil is too dry, it will shrink over time, which creates a void. If the slab can't span the void, it will crack and split and eventually sink into the void, which is why you won't want to wait out the results of cracks.
Residential Helical Slab Piers Georgia
Helical slab piers are a great solution to your cracked or even sinking slab. What happens is that we drill a hole, place the "bracket" and screw it into bed rock so it will support your slab. They are similar to helical piers, except that helical piers don't have the "brackets" to help support heavy concrete. Installing helical slab piers is a great, cost-effective way to repair your slab before you have to replace it. Another pro is, they don't require heavy equipment and can be installed year-round! So if you need residential helical slab piers in your  Atlanta, Georgia residence, call us now!
Once your slab is stabilized with slab piers and helical piers, we will attack the problem at the source.  Our expert employees will use a pressure grouting solution to fill the void underneath your slab.  By eliminating the cause of the problem we can ensure that you will not have any future issues anytime soon. Pressure grouting is a simple non invasive process. We start by drilling a hole in the slab, then we insert a hose, then pump in the grout. It is as simple as that.  With Atlas Piers, not only will we fix slab cracks, we will prevent future ones from arising. We are your residential helical slab piers in Georgia experts.
We also can provide you with other foundation repair services for your home. Don't let these foundations continue to damage your home. Contact us today to take care of the job.