Problem: Sinking Porch Pulling Away from Home
Many homes in Georgia have beautiful porches that really add to the aesthetic look of the home. However, over time, your stoop and porch might settle. This is usually noticeable by a gap between brick front steps and porch. This can be dangerous, because of the lack of support, and it takes away from the beauty and livability of a nice Atlanta porch. We can repair your gap by using slab piers. Atlas Piers is your slab piers in Atlanta, Georgia provider. We have solutions for all stoops and porch problems that can occur.
The foundation along a porches front edge may lack support and began to tilt. To correct this problem, we install a helical pile and bracket under the two front corners of the steps. With the installation of the helical pile and bracket lifting the front steps, the gap disappears, and it will be aligned right against the front porch.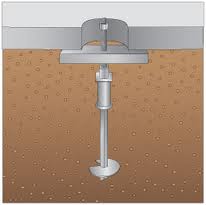 The newly installed helical piles will remain in place to permanently support the steps. Afterwards your porch will look good as new and be safe for use. The helical piles can help the overall look of your porch or stoop and give you a safe step and porch to relax on without having to worry.
Residential Porch Piers in Atlanta and the Surrounding Areas
Other foundation repair problems that we service are:
There are multiple options available if you have noticed the above problems in your home. Residential porch piers, such as helical piers, may be inserted to support your patio. However, they may also be needed beneath your entire home to prevent future settling.
Some cases, a stooping porch might be just the beginning of your problem.  When you call Atlas Piers our expert contractors will come to your property and assess your situation.  Depending on the condition of your foundation and your home, you might need more than slab and porch piers.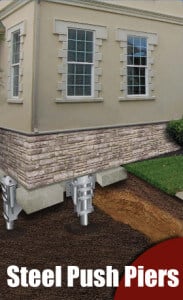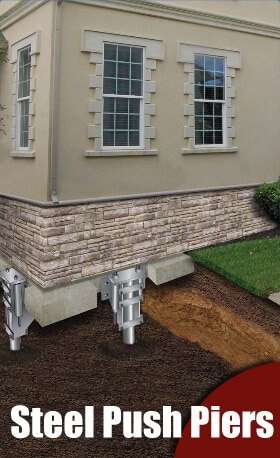 Do not fret – we have the techniques and products to solve your problem.  As long as you know the warning signs of foundation failure, you can solve the problem before it becomes terribly expensive and dangerous.
Your home is your biggest investment.  We handle our work in a timely manner saving you money. Our work is top quality and we work with top quality products. Our products are made by Earth Contact Products (ECP), the leading manufacturer of foundation repair products made in the industry.
We stand behind our work and are proud to be a foundation repair service provider for Atlanta, Georgia. When in doubt give us a call. Atlas Piers Atlanta, GA, your one stop shop for all your homes needs. Call us today to learn more about our steel piers, porch piers, and other foundation repair products and services. Remember that your porch or stoop adds to the curb value of your home, and we can help keep it looking great, as well keep it safe.