Residential Helical Tiebacks in Atlanta

You're going down to your basement to grab a drink in the fridge, and keep noticing something odd about the wall next to you. There's a few cracks, but that's nothing big. They're just cracks. Happens all the time. There's something different, though, about how your wall looks. It looks a little bubbled, like there's something wrong with it. It's probably a trick of your eyes, you think, and leave it alone. Every time you go down, the cracks seem to get bigger though, and your wall seems more and more odd-shaped. Is there something wrong with it? You decide to take a closer look, and see how much you wall is bowed out. This isn't a trick of your eye anymore. This is a real and serious problem that could cause you serious damage if not fixed quickly. If you have bowed walls, a great solution is to have helical tiebacks installed. If you need residential helical tiebacks in Atlanta solutions, Atlas Piers of Atlanta has you covered. We're your number one helical tieback in Georgia provider.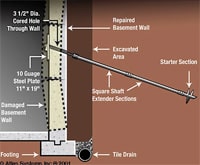 If you need helical tiebacks, chances are, you have foundation problems, which can be caused by:
Unstable soil in your foundation (wet soil, dry soil, soil that changes back and forth too much)
Poor foundation site preparation
Poor foundation installation
All of these factors contribute majorly to the failure of your foundation. When there is excess water around your foundation it can cause what is called hydrostatic pressure. This pressure pushes in on your foundation walls, causing them to bow, lean, or even crack. All of these things lead to a wet basement or worse yet, foundation failure.
Residential Helical Tiebacks GA
Helical tiebacks are long, steel poles with multiple "screws" on them. We use helical tiebacks from the leading industry producer of underpinning products, Earth Contact Products. They are known to be "the very best" for all their underpinning products, including the helical tiebacks. During installation of helical tiebacks, they are screwed into the ground to help support your walls, and prevent bowing in your walls, which can prevent cracks. They can also be installed to simply add extra support to your walls to prevent future bowing or similar problems. They can support hundreds of thousands of pounds so you won't have to worry about the weight of your foundation walls being too much for them. If you need helical ties in your  Atlanta residence, call us now! We'll work with you to find a cost-effective solution to your problems, and make sure your home is safe, sound, and supported.
At Atlas Piers of Atlanta, we have engineers and designers that can take a look at your property, and provide you an estimate for your specific helical tiebacks needs. This way you know ahead of the project the cost and scope of it. Call us today for more information on our products and services and see if residential helical tiebacks are right for your foundation repair needs.