Water in Yard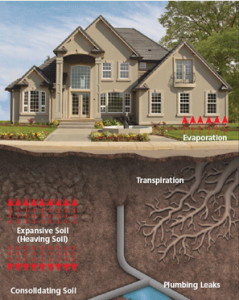 Water issues are common in many homes, particularly in the basement or crawlspace. These water issues, such as mold or mildew growth, high humidity, water seepage, and water stains, are often caused by water pooling in the yard. When water is allowed to pool next to the foundation of the home, it can lead to several different water issues throughout the home, as well as various structural issues and foundation problems. If you see water pooling in your yard, contact a professional for help immediately; the longer you wait to have the problem repaired, the more extensive and costly the repairs will become. Atlas Piers of Atlanta, GA has a variety of solutions to take care of the problems that can arise from pooling water.
Water pooling in the yard is most likely the result of a poorly functioning surface drainage system. The surface drainage system consists of the gutters, downspouts, grading around the home, and various drainage wells and grates that vary from home to home. If the gutters are clogged, not sloped correctly, or broken, water will dump out next to the foundation of the home. Downspouts that do not extend far enough can also dump out water too close to the foundation. If the yard around the home is not properly sloped to allow water to flow away from the foundation, water will collect and pool around the foundation.
This pooling water can leak through cracks in the foundation to cause water issues in the basement or crawlspace. The water may also seep through the porous concrete of the foundation, leading to moisture issues and a weakened foundation. If you see water in your yard, look for the signs of foundation failure:
Water in Yard Solutions in Atlanta, GA
Keeping your surface drainage system functioning properly is one way to prevent water from pooling in your yard. This can be done by regularly inspecting your home, and ensuring that the gutters and downspouts are functioning properly and that the ground is properly graded around your foundation. Installing a vapor barrier with wall encapsulation can also help prevent pooling water from causing problems, as the vapor barrier keeps moisture out of the basement or crawlspace. This barrier, made of a plastic or foil sheeting, is installed all along the interior of the area to seal out water.
In order to fix some of the structural issues caused by pooling water, it may be necessary to invest in foundation repair form Atlas Piers. We have a variety of underpinning options, such as helical piers, steel push piers, and helical tiebacks, to lift and stabilize a settling foundation or restore a shifting foundation. Other solutions include pressure grouting and carbon fiber repair, to stabilize foundations and foundation walls and close foundation cracks.
When it comes to water in your yard, Atlas Piers has a variety of solutions to prevent foundation problems and water issues. Contact us today for more information!