Commercial Foundation Repair in Columbus Georgia
With a big population comes many businesses and storefronts that are in constant need of repair. Atlas Piers of Atlanta offers solutions in the commercial purpose areas of Columbus. If your company has a building that requires foundation repair, contact Atlas Piers of Atlanta today. We offer the very best products from Earth Contact Products to get the job done by their professional employees.
Common problems experienced by home and business owners in Columbus may include:
sticking doors or windows
cracked drywall
driveway cracks
Commercial Foundation Repair in Columbus GA
If your building is in need of resistance piers we can do it. These are underpinning piers that are in the shape of the letter "L" that attach to the wall to add support and stability. We also install helical piers that can carry the load of your structure, no matter what the size and weight. We also offer shoring and carbon fiber repair, both of which are very specialized. With our professionally trained staff, we can handle all of your commercial foundation repair Columbus GA problems.
Helical piers are used to create a stable business foundation. These piers are long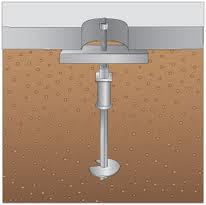 steel beams that are screwed into more stable bedrock below your foundation. The fact that they screw into the soil makes it a more reliable pier for foundation repair Columbus GA, which come sin handy for supporting large commercial buildings. It will not lean or wiggle because of soil movement. The helical piers are great for supporting your slab. The added support is just a reassurance that all is well.
Atlas Piers is about more than just underpinning, however. We offer foundation repair solutions for various other situations. If you find that voids have developed under your foundation, it may be in your home's best interests to invest in pressure grouting services. This is a method in which grout is injected beneath the foundation to fill voids and support the foundation. Once the voids are filled and the grout hardens, the foundation is lifted to its original position and stabilized. For basement wall repair, we have both helical tiebacks and carbon fiber repairs. Both are great solutions; helical tiebacks are anchored into the ground outside to apply horizontal pressure to the wall, while carbon fiber strips are applied to the inside of the wall to lock it in place, seal cracks, and provide strength. Carbon fiber strips are also environmentally friendly, which is a great bonus if you are trying to stay "green." Your basement may also develop water issues. If this is the case, wall encapsulation from Atlas Piers is the way to go. This is a waterproofing technique in which a vapor barrier is installed along the walls of a crawlspace or basement. This vapor barrier prevents moisture from getting in, ensuring that the area stays dry and safe.
Don't count us out for other repair processes in addition to underpinning. We are the best around at pressure grouting, mud jacking, and the very special foundation option of solar panel foundations. For the latest and greatest in foundation building and repair technology that you won't find elsewhere, contact us today. We will gladly provide you with a free estimate on any commercial foundation repair Columbus Georgia need you might have.
Whatever problems you may come across in your home–bowing or leaning walls, wall cracks, porch or patio problems, basement wall problems, interior damage,  or even sticking doors or windows–we have you covered. For all commercial foundation repair Columbus Georgia needs that arise, contact the professionals at Atlas Piers of Atlanta.