Why is foundation repair in Loganville Georgia so important?
Loganville, Georgia is a part of the humid subtropical climate. Because of this, the town experiences summer highs in the nineties and winter lows dipping down into the thirties. Snowfall occasionally falls during Loganville winters, but if you live in the town, you had better like your rain because they receive a yearly average of 49.7 inches. The national average is only 36.5 inches. Though the change in seasons and precipitation are appreciated by the citizens of Loganville, they may be a problem for its homes.
Foundation Repair Solutions for Loganville GA
Precipitation raises some potential issues for foundations. As the soil around your home becomes overly saturated, it can put hydrostatic pressure on your foundation. A foundation is built to withstand a certain amount of pressure, but if the load surpasses that amount, it will begin to push forward and crack. These foundation cracks not only let in unwanted water, but insects and critters as well. A change in temperature can cause issues, too. As temperatures vary, the ground expands and compacts. The more this happens, the weaker the soil can become. When your home is built, it relies on this ground for its support. When the soils lose their original strength, they may begin to sink. Your home's foundation may sink or settle along with it. There are some key signs that this is happening. Check for cracks in your walls and floors, sticking doors and windows, and a leaning chimney. If you catch the problem in its tracks, we will be able to use our foundation repair products to give your home the support it needs.
With the experience of our crew members and products from Earth Contact Products, we will be able to take care of your foundation repair Loganville GA problems. We can use carbon fiber strips for bowing walls.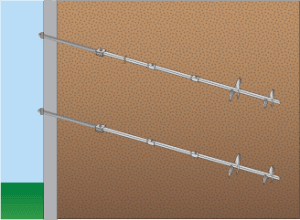 This product is put on the wall where extra support is needed. This keeps the wall from pushing forward more and creating even larger cracks. Carbon fiber is also a very eco-friendly solution for bowing or cracked foundation walls. Helical piers are used to support your foundation when you have unreliable soil. The helical piers are screwed down to more stable soil and then transferring the pressure from your foundation to your the good layer of soil. This allows the foundation to be stabilized and lifted to its original position. Other types of piers can be used depending on the situation: slab piers, steel push piers, porch piers, or new construction piers.
Other foundation repair solutions that we offer include: helical tiebacks, and encapsulation. Helical tiebacks are often used to repair bowing or leaning foundation walls. These devices are anchored into the ground next to the wall and attached to the wall; they apply horizontal pressure opposite to the direction of the lean to straighten the wall. Because basements and crawlspaces are prone to water issues, Atlas Piers offers wall encapsulation, a waterproofing method. that involves the installation of a vapor barrier along the walls of the crawlspace or basement. The barrier seals out moisture, leaving the area dry and mold-free. A dry basement or crawlspace also keeps the air in the entire home fresher, keeping you and your family healthy.
Whatever foundation failure problem–sticking doors and windows, wall cracks, even leaning chimneys–we have you covered. No matter what your foundation repair need, we are here to service you. Give us a call for your foundation repair project in Loganville Georgia!