Basement Mold and Mildew
There are many issues that can develop in the basement of your Atlanta home. Many times, these problems have to do with moisture. Although some moisture and water vapor is necessary for the health of structures, too much water is never a good thing. Excess moisture in the basement leads to harmful problems, such as the growth of mold and mildew. If you see signs of mold and mildew in your basement, it is time to call in the professionals; the experts at Atlas Piers of Atlanta, GA can provide you with several great options to take care of and prevent basement mold and mildew in your home.
Basement mold and mildew are just one result of water seepage. This water seepage can occur for several different reasons. If your foundation has started to settle or shift due to increased hydrostatic pressure or shifting soil, the concrete may develop foundation cracks. These cracks provide an entry point for water, which can lead to the growth of mold and mildew in your basement. Another cause of basement moisture is poor drainage or waterproofing. If the drainage systems outside your home fail to keep water from pooling in your yard, it could lead to water leaking through cracks in your foundation, or seeping through the porous concrete foundation itself. This not only causes water problems in the basement or crawlspace, but can also lead to the weakening of your foundation.
If you suspect a basement mold or mildew problem in your home, examine the basement for the following signs:
Water pooling or flooding
High humidity
Condensation on pipes
Wood rot
Metal rust
Wet or damp insulation
Musty odors
Wet or damp floors and walls
These are some common symptoms of a basement water problem that can lead to mold or mildew growth. Contact a professional from Atlas Piers as soon as you see any of these signs in your home.
Basement Mold and Mildew Solutions in Atlanta, GA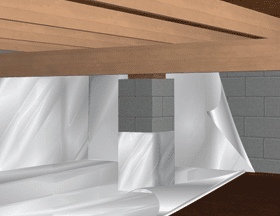 The best way to keep basement mold and mildew problems under control is to ensure that your home is properly waterproofed, and that the foundation is secure. One of the best ways to prevent the growth of mold and mildew is to keep water out of your basement with wall encapsulation. This process uses a vapor barrier to keep out water vapor and to prevent water seepage from causing mold and mildew problems in your home. These vapor barriers, made from water resistant plastic or foil sheeting are installed all along the walls of the basement or crawlspace to seal out moisture.
Making sue that your foundation is in good shape can also help prevent the growth of mold and mildew. Cracks in your foundation that are letting water in your basement can be repaired with the various underpinning methods from Atlas Piers: helical piers, steel push piers, helical anchors, helical tiebacks, or pressure grouting. Whichever solution you choose, Atlas Piers has the experience and equipment to make sure it works for you.
If you are in need of a solution for the basement mold and mildew in your Atlanta, GA home, contact Atlas Piers today!