Residential Slab Foundation Piers in Atlanta
Applications:  Cracked and Settling Foundations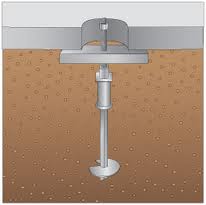 Your home requires a sturdy foundation, and at Atlas Piers of Atlanta, we can ensure that happens. We offer foundation design, pouring, and inspections for new residential construction, and we also offer services that repair or add additional support to existing residential foundations. One of the many services we offer relates to residential slab foundation piers. Here's what you need to know.
Helical slab foundation piers are a great solution to your cracked or even sinking slab.
Slab pier assemblies are steel piers that are installed deep into the soil under the porch or patio to transfer the weight of the slab to more competent strata. Once these piers are installed, the slab is lifted back to a level position.
Helical slab piers are installed by drilling a hole and placing the bracket and screw into bedrock to more stable soil. The brackets on these helical slab piers help support heavy concrete. Helical slab piers are a more cost-effective way to repair your porch or slab rather than replacing it.
Helical slab piers are similar to helical piers, except that helical piers don't have the "brackets" to help support heavy concrete. Installing helical slab piers is a great, cost-effective way to repair your slab before you have to replace it. Another pro is, they don't require heavy equipment and can be installed year-round!
Residential Slab Foundations for New Construction
A residential slab foundation features a slab of concrete. These slabs are just a layer deep and only a few inches thick, but they can still provide more than adequate support for a home. Typically, they are slightly thicker at the edges which creates footing to give the exterior walls of the home extra support.
Additionally, when we pour slab foundations, we don't just put them directly on the ground. Instead, we level the area to prepare it. Then, we often add a layer of crushed gravel to help with drainage. Finally, we put in the foundation and add reinforcing rods to strengthen it.
Our slab foundations can work for traditional homes in a variety of sizes and styles, and they can also work if you are thinking about adding an addition to your home and you need a foundation for that. Slab foundations can also work with modular or prefabricated homes. However, if you want a basement in your home, this foundation is not the right option for you, but our specialists can help you find the best residential foundation for your needs in those situations.
If your home's slab foundation has started cracking or settling, we can also help to address that issue in a way that saves your foundation, strengthens its design, and continues to provide your home with the support that it needs. Keep reading to learn more.
All of our foundation repair products are manufactured by only the highest quality manufacturers in the industry. With over 30 years of experience and the best products for foundation repair, you can count on the experts at Atlas Piers to for a repair job that will last for years to come! Contact us today for more information regarding solutions for porches and patios as well as other foundation repair topics!