Steel Push Piers For Your Atlanta Home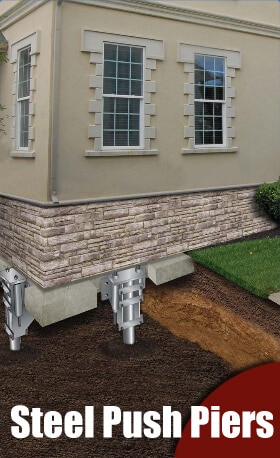 If you are experiencing any type of residential foundation issues in the Atlanta area, Atlas Piers of Atlanta has an efficient solution for you: steel push piers. We have built strong and lasting relationships with providers that offer only the best quality foundation repair products, and the reputation of our team is built on trustworthiness and reliability.
With Atlas Piers of Atlanta, you can have complete peace of mind knowing that by trusting us with your foundation piering project, you will be taking advantage of the best resources available.
Signs of That Your Home Needs Piering Services
Signs that your home needs piering services from Atlas Piers of Atlanta can present themselves in a variety of ways, from bowing or leaning walls to cracks in the foundation or walls. Sloping floors and leaning chimneys may also be warning signs, as well as sinking garages, sticking doors and windows, cracked slabs, porch and patio problems, basement wall problems, and interior damage.
If you suspect any of these issues it is important to contact the experienced professionals at Atlas Piers of Atlanta for an inspection as soon as possible.
Our Push Pier Installation Process
Installing push piers with Atlas Piers of Atlanta is a simple, effective, and non-invasive process. We know how important your property is to you, which is why we are committed to making sure your installation doesn't cause any unnecessary damage or disruption.
Our technicians use the right tools and equipment to complete the job in a timely and efficient manner, minimizing disruption for our customers. Additionally, because our piering installation process is minimally invasive, the costs of repairing any lawn or landscaping affected by our installation process are low. With Atlas Piers of Atlanta, you can have a safe and secure foundation in no time at all!
---
Residential Resistance Piers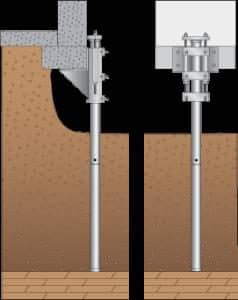 At Atlas Piers of Atlanta, we field test all steel piers that we install to ensure that they can withstand the load of your home and properly support your foundation.  By using multiple piers on every job we reduce the load on any single pier.
During load transfer, high pressure hydraulic jacks are placed at multiple locations thus reducing the load on each resistance pier.  Contact an Atlas Piers foundation repair contractor or registered foundation engineer to help you evaluate and solve your foundations problem.