Residential Foundation Shoring For Your Atlanta Home
Sometimes, the foundation of your home needs to be stabilized before the home is completely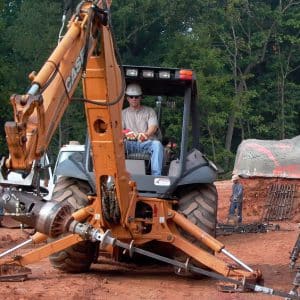 constructed. That is where our residential foundation shoring services come in. The Atlas team offers experienced personnel with our industry's state-of-the-art precision products and equipment for shoring. We ensure foundation stability during construction, demolition, or reconstruction to keep you and your family safe. The services that we offer include residential excavation shoring as well as new construction shoring.
In addition to providing support for new construction, it is often necessary to shore existing structures and excavations. Conventional shoring systems are not always feasible due to noise, time or vibration constraints. Our underpinning products, however, can provide the reliable results without the drawbacks of other shoring methods.
Why Shoring in Atlanta is Useful
Shoring is used when a construction project requires partial support to prevent structural damage or foundation problems. For residential homes, we can also use shoring methods to support the beams and floors in the building while a wall or column is removed. We can then use vertical supports for temporary replacement. This is where the reliability of our foundation repair products comes in handy. Benefits of using our products, such as helical tiebacks and steel push piers, include:
Ease of Installation

Made from Galvanized Steel

Can be Immediately Load Tested

All Weather Installation

Little to No Vibration

Little to No Disturbance to Jobsite

Piers Install Below Active Soils
Residential Shoring for Foundation Installation and Repair
Shoring is commonly used when installing the foundation of a building. A shoring system, such as steel push piers, will support the surrounding loads until the underground levels of the building are constructed. Shoring methods such as this can also be used to repair your foundation. Your foundation may fail due to unexpected forces, such as soil movement or excess moisture. We use quality foundation repair products that can re-position your foundation to its originally designed plan and lift the structure of your building to its original state.
Helical Tiebacks for Residential Shoring in Atlanta, GA
Helical Tiebacks are a type of shoring product that we often use. We offer the very best in helical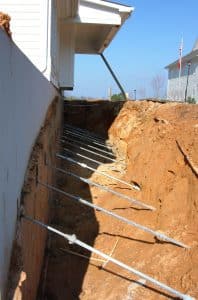 tiebacks from the industry's leaders. These tiebacks work like large screws, and are installed laterally to apply horizontal pressure that holds the foundation in place. Helical tiebacks are also very versatile, and can be used in many different situations.
If you have any question, or need assistance with your foundation project, please give us a call. One of our professional staff members will  be happy to answer all your questions regarding residential shoring. Whether it is a new construction project or a foundation repair project, count on the experts at Atlas Piers of Atlanta. We will make sure you project is done fast, safe, and on budget. Call us today!