Commercial New Construction Helical Anchors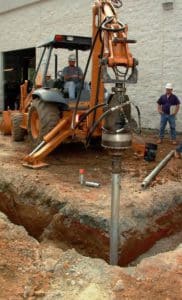 As the construction industry continues to grow and evolve, so do the tools and techniques that are used to build strong, stable structures. That's why Atlas Piers of Atlanta is proud to offer a cutting-edge range of commercial helical tieback anchors that are specifically designed to meet the unique needs of the modern builder.
Made from high-quality materials and engineered to withstand even the most demanding conditions, our helical anchors and products are ideal for foundation piles, retaining walls, and various other anchoring applications. So whether you're working on a large-scale commercial project or a smaller residential build, you can trust Atlas Piers of Atlanta to provide the high-performance solutions you need to get the job done right.
Helical Anchor Applications
From construction projects to industrial applications, the versatility of helical anchors makes them a go-to solution for a wide range of uses. Whether you need to support a large building or secure industrial machinery in place, these products can be adapted to fit your specific requirements. Thanks to their portability, they can easily be transported to any site, and their unique design allows them to be installed quickly and easily without the need for heavy equipment. The versatility and portability of our helical products permits greater flexibility in application and installation for a broad range of uses: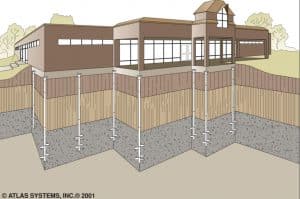 Foundation support for new construction
Foundation repair for existing construction
Utilities support
Bridges & abutments
Slab underpinning
Tieback anchors
Soil nails for earth excavation
Soil nail & Shotcrete installation for shoring
Structural floor & column underpinning
---
Commercial Retrofit Helical Anchors for Foundation Repairs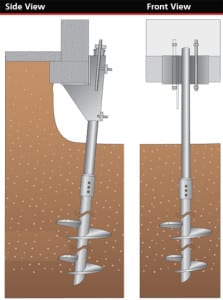 If you have a settling or sinking foundation, helical anchors could be your best option. These underpinning devices are screwed deep into the ground beneath the slab, until they reach load bearing soils. Next, the weight of the structure is transferred onto the anchors. Once this is done, the anchors can be used to lift the foundation to the proper level. This helps return the foundation to the proper position, closing cracks that may have formed and stabilizing the foundation in the process.
Helical anchors are a reliable foundation repair solution for situations where tension resistance and axial compression forces are required. This is especially useful in stabilizing and repairing the foundations of commercial metal buildings. Because they are installed with hydraulic motors, helical anchors can be installed easily and quickly, returning the foundation to normal in no time. Atlas Piers uses helical piles/anchors that are manufactured in the United States by Atlas/Chance and Earth Contact Products (ECP).  Benefits of using helical piles/anchors include:
Ease of Installation

Little to No Vibration
Immediate Load Transfer
Can be Easily Load Tested
Can be Installed in All Weather
Little to No Disturbance to Job Site
Install Below Active Soils
Call Atlanta's Trusted Helical Anchor Experts
Atlas Piers is a reliable and respected name in the world of helical anchor installation services. We are consistently recognized as the trusted experts in the industry and proudly offer our top-notch services in Atlanta and throughout the U.S.
Our team of seasoned professionals is committed to delivering high-quality, commercial foundation repair solutions tailored to your specific needs. So whether you're looking to repair your foundation, secure a retaining wall, or stabilize a slope, Atlas Piers is the right choice for your next project. Contact us today to discover how we can help you ensure a solid foundation for your business.