Hydraulic Slab Lift Piers
Application:  Cracked and Settling Foundations
Hydraulic slab lift piers offer foundation repair contractors the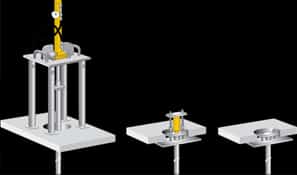 reliability of the classic steel pier while also providing the ease of portable equipment. For the repair of settling or sinking foundations, hydraulic slab piers are becoming an increasingly popular solution.
n most situations, hydraulic slab lift piers are used to lift and stabilize settling foundations and work in much the same way as other types of resistance piers. They are end-bearing piers, meaning that they do not rely on skin friction to produce support for the slab. Instead, the entire slab acts as a reaction force.
Benefits of Hydraulic Slab Lift Piers include:
Can be used with slabs 4 inch thick or more
Reliable solution for concrete leveling
Uses portable equipment
Evenly distributes weight of structure on piers
Minimal setup time
Piers install quickly
Low cost and time efficient
Installed indie the structure
Pier do not rely on skin friction
Little to no vibration
Installs to rock or end bearing stratum
Contact us today for more information regarding repair solutions for your cracking and settling foundation!