Atlanta's Best Foundation Repair Services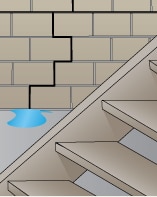 Living in Atlanta, Georgia means dealing with constant weather changes throughout the year. As a homeowner, you may experience foundation problems due to the hot, humid summers and cool winters. Fluctuating temperatures cause the soil around the foundation to shrink and expand, leading to damage to your home. Additionally, the amount of rainfall in Atlanta can create excess water in the soil, which can put pressure on the walls of your basement, causing them to bow or lean.
If you notice any of these issues, it's important to call the basement foundation repair experts at Atlas Piers of Atlanta without delay. With a fast response time, Atlas Piers can protect your investment and prevent more expensive foundation repairs down the line. Don't wait until it's too late, schedule your consultation today.
Atlas Piers, The Leaders in Foundation Repair in Atlanta, Georgia
Trustworthy foundation repair is essential to maintaining your home's safety and longevity. That's why Atlas Piers is the go-to choice in Atlanta for those looking to correct foundation issues. With a specialized focus on underpinning products like helical piers, resistance piers, and helical slab piers, Atlas Piers has built a reputation as the leader in their field.
The team at Atlas Piers prioritizes quality, using only the best products that rank among the best in the world. Our dedication to delivering superior foundation repair solutions goes hand-in-hand with our commitment to accuracy and thoroughness in installation. When it comes to foundation repair, you can trust Atlas Piers to get the job done right the first time.
Warning Signs of Foundation Failure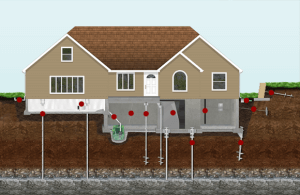 Foundation failure is a serious issue that can cause a lot of alarm among homeowners. Unfortunately, many homeowners are not aware of the warning signs of foundation failure. These signs may seem small and insignificant at first, but they can actually indicate some serious problems.
Sloping floors, bowing walls, cracks in the ceiling, and leaning chimneys are some of the warning signs that your foundation needs attention. Other indications include gaps and spaces, beam and post problems, and doors and windows that are hard to open and close.
If you notice any of these signs, it's important to act quickly and contact a professional foundation repair company. Ignoring these signs can lead to bigger and more expensive problems down the line.
Our Foundation Repair Solutions
Ensuring a strong and stable foundation for your property is crucial. Any issues such as cracks or uneven flooring must be addressed immediately. Atlas Piers offers various foundation repair solutions able to efficiently fix most problems.
We understand repairs can be expensive and can also cause damage to your property. Therefore, we strive to minimize any harm while providing a long-term solution. You can trust us to help you handle any foundation issues you might be encountering.
Professional Crawlspace Encapsulation in Atlanta, Georgia
Are you experiencing issues with mold growth in your crawl space? Don't let this problem take over and affect your family's health. With our professional crawl space encapsulation services in Atlanta, Georgia, we can combat moisture issues that lead to mold and mildew growth.
Concrete crawl spaces are known for attracting moisture, which can cause a damp and unpleasant odor to develop. However, our encapsulation process and vapor barrier installation will provide you with clean air to breathe, a dry space to store your belongings, and lower utility bills. Entrust us to provide you with a safe crawl space that you and your family can enjoy without any worry.
Contact Us Today for a Free Inspection
Protecting your home starts with a solid foundation. Unfortunately, foundation issues are not always apparent until they become major problems. If you suspect your foundation is in need of repair, don't wait any longer, call Atlas Piers of Atlanta today!
Our foundation repair team has the knowledge and experience to accurately assess the damage and provide cost-effective solutions tailored to meet your needs. From start to finish, we keep you informed every step of the way. So, contact us today for a free inspection and let us get to work for you.