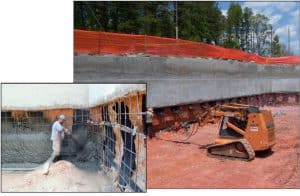 For a business owner, ensuring the safety and stability of their commercial building is crucial. Fortunately, Atlas Piers of Atlanta offers commercial soil shoring, soil nailing, and screwing services to address these concerns.
With our experience and expertise, we can either create new foundations or improve existing ones. You can be confident that your investment is secure with our support. Trust us to provide the necessary foundation for your commercial structure.
Soil Shoring and Underpinning Existing Structures
We are experts in commercial soil shoring, underpinning, soil nailing and soil screwing. Our engineered systems are designed to provide a safe and stable environment for your business operations. Our hydraulic system uses continuous pressure to reduce noise and vibration, ensuring the safety of both onsite and nearby structures.
Our commercial soil nailing and soil screwing services allow us to excavate adjacent to an existing structure to a significant depth without damaging the foundation. Our clients can continue their work in the building, reducing any disruptions to their workflow and income-generating activities.
Maximum Possible Footprints With Engineered Solutions
This engineered solution is especially advantageous to commercial property owners as it enables them to construct buildings with maximum possible footprints, with one or more basement levels, in order to maximize income potential. Without this solution, most buildings would only be able to have a single basement.
Our Soil Shoring Process
Are you worried about the safety and stability of your commercial building during excavation? Our advanced soil shoring process can help you with that. It involves multiple steps and incorporates several of our Atlas foundation support products, such as modified resistance piers and helical soil nails.
We use shotcrete retaining walls to maintain the stability of the cut slope and underpinning system, thus ensuring that your building remains secure. So, if you're planning a commercial excavation, rely on our expert team to provide you with the most advanced soil shoring process available.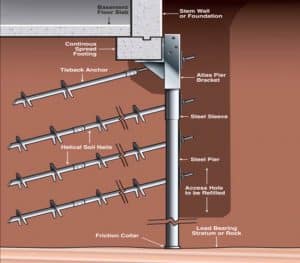 How Soil Nailing Works
Atlas Soil Nailing is a method of earth retention that relies on reinforcing members installed in a geometric pattern to create an internally/mechanically reinforced soil mass. Soil Nail Walls are constructed from the top down. The construction sequence for the typical Soil Nail Wall includes:
Initial excavation of up to 5 feet deep depending upon design parameters and soil conditions.
Installation of the first row of helical soil nails to the required angle of inclination, torque and embedment lengths.
Placement of drainage system (if required).
Placement of wall reinforcement and bearing plates.
Placement of shotcrete to the required wall thickness.
Allow for cure time and then repeat the sequence for successive rows of soil nails.
Continue the process until the final design depth (wall height) is achieved.
Why Choose Atlas Piers for Your Soil Shoring Needs
If you require commercial soil shoring, soil nailing, or soil screwing services, you have numerous options to choose from. However, choosing Atlas Piers has many advantages. With over 30 years of experience in the business, we have earned a reputation for excellence that few of our competitors can match. Our team has extensive experience in lifting and stabilizing building foundations throughout Atlanta and the Southeast, making us the go-to commercial foundation experts for countless clients.
We have completed over 60,000 successful jobs which have earned us the trust and loyalty of our clients. We are known for our expertise and reliability in getting the job done correctly. Therefore, if you are looking for a commercial soil shoring company that you can rely on, Atlas Piers is your best bet.
Contact Us Today For A Free Estimate
If you are planning to undertake a commercial construction project in Atlanta, it is essential to ensure that your building is supported by sturdy and reliable foundation systems. Atlas Piers is a team of experts that utilizes the latest technology and methods to provide high-quality commercial soil shoring, soil nailing, and soil screwing services.
If you are unsure about the suitable option for your project, simply give us a call, and we will be happy to provide you with a free estimate.