Foundation Repair in Alpharetta Georgia
Alpharetta is a part of the humid subtropical climate zone. There's a rather large temperature change between Alpharetta's seasons. Summer highs rocket into the eighties while winter lows dip into the twenties. The suburb receives a large amount of rain every year, about 53 inches. If you compare that to the national average of only 36.5 inches, you realize just how much rain that is! Though this change in seasons and precipitation makes for generally pleasant weather, it can cause some issues for homes in the area. Our company is your solution to such issues. Atlas Piers is your foundation repair Alpharetta Georgia service provider. We are here to help keep your home safe!
Foundation Repair in Alpharetta GA
Changes in temperature can disrupt soils. As temperatures vary, soils expand and compact. The more this occurs, the weaker the soils become. Eventually, the ground may begin to sink or settle because of this. Since your home is built on top of this ground, it may begin to settle, too. If taken care of properly, a settling foundation is nothing to be worried about. Without proper precautions, though, it can be detrimental to your home's value and safety. Signs of a settling foundation include cracking walls and floors, misaligned windows and doors, and a leaning chimney. If you notice such things happening in your home, do not worry. Simply give us a call as soon as you can. We will happily come inspect your home, determine the problem, and come up with a solution to keep you and your family safe.
Although the name "Atlas Piers" suggests that we focus only on foundation piering products, we also offer a range of other foundation repair products and solutions. These additional services include: helical tiebacks, carbon fiber repairs, encapsulation, and pressure grouting. Helical tiebacks are an underpinning product that can be used to straighten bowing or leaning foundation walls.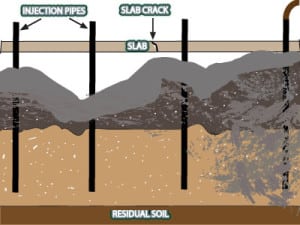 If the walls in your basement are leaning, bowing, or cracked, helical tiebacks may be the best choice. Carbon fiber strips are also used to repair foundation walls that have begun to lean or crack. These strips are an eco-friendly option that are just as effective as they are "green." For void filling purposes, Atlas Piers offers professional pressure grouting. Pressure grouting is the injection of grout beneath a foundation to fill voids that may have formed due to erosion, soil shrinkage, or other factors. Once the grout is injected, the foundation is stabilized and given the proper support. For water issues in your basement or crawlspace, choose wall encapsulation from Atlas Piers. Installing a vapor barrier will seal out moisture and keep your home healthy and dry.
Precipitation can also pose some potential issues. When your area receives a lot of rain, the soils around your home can become very saturated. Saturated soils put hydrostatic pressure on your home's foundation. This is generally not an issue, but if the pressure surpasses the load your foundation was built to withstand, it may begin to crack. These cracks can let in unwanted water, insects, and even critters.The pressure needs to be stopped so no further foundation damage can occur. We use the best products on the market from Earth Contact Products. These products make our job better because we know that we can count on them to do the job needed. If we need to relieve some of the pressure on the walls, we can install helical piers or steel push piers. These piers hold up the foundation of your home or commercial property. They are put into the ground and the weight of the foundation is transferred over to the piers.
No matter what your foundation issue, give us a call. We will inspect your home or business and give you an estimate of your foundation repair costs. We're your foundation repair in Alpharetta Georgia professionals!