Alpharetta's Best Foundation Repair Services
As a homeowner in Alpharetta, Georgia, you are well aware of the challenges that come with the beautiful weather of the region. With drastic temperature changes and varying rainfall throughout the year, homes in the area can sometimes suffer from foundation issues such as sinking or cracking. But you don't need to worry, Atlas Piers is here to help you out.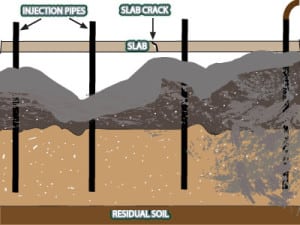 Atlas Piers is the leading foundation repair company in Alpharetta. We offer exceptional basement waterproofing and structural repair services to ensure your home is safe and stable. If you're facing any such issues, do not hesitate to contact us for a consultation, we are committed to providing you with the best possible solutions.
Common Causes of Foundation Damage
If you're experiencing foundation damage in Alpharetta, Georgia, there are several common causes you should be aware of. One of the key culprits is changes in temperature, particularly when they cause soils to expand and contract. When this happens, the ground may settle or sink, which can cause structural issues in your home. Signs of a foundation settling include cracked walls and floors, misaligned windows and doors, and a leaning chimney.
If you notice any of these symptoms, it's important to take action as soon as possible. By contacting Atlas Piers, you can get your home inspected and repaired to ensure it's safe and structurally sound. We offer a range of services, including waterproofing and structural repair, so don't hesitate to give us a call if you need help.
Our Foundation Repair Services
Foundation issues can be a nightmare for homeowners in Alpharetta. But there's no need to worry because Atlas Piers has you covered. Though we may be known for our foundation piering products, we also offer a range of foundation repair services such as helical tiebacks, carbon fiber repairs, and encapsulation.
We take pride in equipping ourselves with a variety of solutions to ensure that we can provide the best possible service to our clients. You can trust us to fix any foundation issues you may have in your Alpharetta home.
Professional Waterproofing
If you live in Alpharetta and are experiencing water issues in your basement or crawlspace, look no further than Atlas Piers for professional waterproofing. When it comes to keeping your home healthy and dry, installing a vapor barrier is crucial in sealing out any moisture. Excessive rain can cause the soils around your home to become saturated and put hydrostatic pressure on your foundation, potentially causing cracks and letting in unwanted water, insects, and critters.
It is important to have the pressure stopped and any foundation damage repaired before it becomes worse. Trust the experts at Atlas Piers to provide you with the best waterproofing solutions to keep your home in the best condition possible.
Call Atlas Piers of Atlanta for A Free Inspection
If you're dealing with foundation issues in your home or business in Alpharetta, Georgia, don't hesitate to contact Atlas Piers of Atlanta for a free inspection. Our team of foundation repair professionals are experts in their field and will provide you with a comprehensive assessment of your situation. Whether you're experiencing cracks in your foundation, settling or sinking, or other foundation-related problems, we have the experience and knowledge to tackle the job.Once we have conducted the initial inspection, we will provide you with a detailed estimate of the costs involved, so that you can make an informed decision. You can trust Atlas Piers of Atlanta to take care of all of your foundation repair needs.