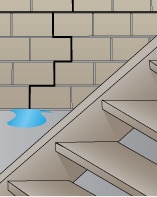 Ensuring the safety and durability of your commercial property is a top priority and foundation repair plays a vital role in achieving this. Atlas Piers of Atlanta is well-aware of the significance of a strong foundation, which is why we are pleased to offer our commercial foundation repair services in Savannah, Georgia.
Our team of experts can handle any signs of foundation failure, from underpinning to crawl space encapsulation. Don't wait until it's too late to address these issues. Trust Atlas Piers of Atlanta to provide the high-quality foundation repair services your property needs and deserves.
Common Signs of Foundation Failure in Savannah
It is essential to maintain strong foundations to ensure the safety and longevity of any building. In Savannah, homeowners should be aware of the common signs of foundation failure to avoid costly repairs and potential hazards.
Keep an eye out for leaning walls, cracked floors, and sinking foundations, as they could indicate a severe issue. Sinkholes, bowing walls and a leaning chimney may also require professional attention. In addition, garage column cracks and sloped floors could be signs of foundation failure. Therefore, it is crucial to monitor these symptoms and take necessary actions to prevent further damage.
Atlas Piers – Savannah's Structural Repair Experts
In Savannah, the historic architecture is known for its beauty. At Atlas Piers, we are committed to preserving this legacy through our expert structural repair services. Whether you're a homeowner or a business owner, we're here to help you protect your property.
Our team of experienced professionals is equipped to tackle any foundation or waterproofing issue, ensuring your property is well taken care of. We take pride in our commitment to providing the best possible service and delivering results that are built to last. When it comes to structural repair, Atlas Piers is the top choice in Savanna
Commercial Foundation Repair Solutions in Savannah GA
Atlas Piers of Atlanta specializes in underpinning with helical piers and resistance piers to lift and stabilize your settling foundation. We can repair your commercial building fast with quality professional employees and products. We gladly service commercial repairs and new construction. We can make sure your commercial building is strong and safe or assist with shoring your new foundation in your commercial building.
We also offer a variety of other foundation repair services, including: helical tiebacks, carbon fiber repairs and encapsulation. Helical tiebacks are often used to straighten bowing or leaning foundation walls. These devices are anchored into the ground next to the wall and attached to the wall; they then apply horizontal pressure opposite to the direction the wall is leaning. Carbon fiber strips are another method that can be used to fix leaning or cracking foundation walls. These strips give the wall strength and stability, locking it in place and closing any cracks that have developed due to the stress from the ground outside.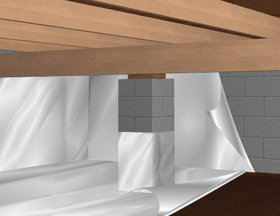 Helical Slab Piers
Do you ever notice there are cracks in the concrete slab or the ground appears to be shifting so you have uneven concrete in your building? Do something to make your structure one you can be proud of and keep it safe.
We offer helical slab piers which, once installed, will lift your slab back to its original spot. We can also fill cracks with epoxy or polyurethane depending on the type of crack you have. This will add strength and make your slab feel like new.
Professional Basement Waterproofing
Since many basements and crawlspaces tend to develop water issues, Atlas Piers offers wall encapsulation, a waterproofing method that involves the installation of a vapor barrier along the walls of the crawlspace or basement. The barrier seals out moisture, not only leaving the area dry and mold-free, but also leaving the air in the entire home fresher and healthier.
If you are noticing cracks in the walls of your business' foundation it's best to get a professional to look at it and find a solution to the problem. Not only will Atlas Piers look at it we will also repair the source of the problem so it doesn't happen again.
New Construction Foundation Support
If you're building a new construction, you know creating a strong foundation is a crucial step. At Atlas Piers, we specialize in pre-engineered underpinning using helical piers to provide the necessary support and stability. We're proud to be one of the few companies in the state that offers this advanced technology.
Our helical piers are designed to provide long-lasting support for your foundation. And because they're ready to be loaded immediately, we can help you save time on your project. You can count on us to help make your new construction a success.
Contact Atlas Piers for A Free Foundation Repair Quote
As a business owner in Savannah, Georgia, you may be concerned about signs that your foundation needs repair. You don't have to worry as the team at Atlas Piers of Atlanta is here to help. Our skilled technicians are equipped with the latest tools and techniques to provide effective and cost-efficient commercial foundation repair solutions.
We can handle a variety of issues, such as sticking doors and windows or bowing walls. Don't wait any longer, contact Atlas Piers of Atlanta today for a free quote on foundation repair services and restore the stability of your business.