Residential Underpinning Foundation for Your Atlanta Home
Applications:  Settling Foundation, Load Bearing Walls, Settling/Leaning Chimney, Stoops and Deck Support Columns, Room Additions, Bay Windows and Garage Columns
Underpinning foundations is our most popular foundation repair technique. Underpinning strengt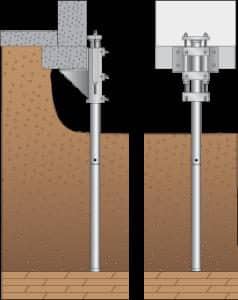 hens and stabilizes your foundation by transferring the load from the foundation. Specifically, when we underpin a structure, we extend the current foundation into a soil layer that is deeper and, therefore, more stable than the soil it is on now. We can do this by providing additional support from the footings using piers, piles, or anchors.
All of our foundation solutions create little to no disturbance to the installation site; so, we will not damage your landscape. We only install the best foundation repair equipment; so, our solutions are durable and affordable. We offer a variety of underpinning solutions, such as steel push piers, helical piles, wall plate anchors, and concrete piles.
A Closer Look into Underpinning Foundations
Steel Push Piers can be inserted into the ground beneath your preexisting wall. These piers take the pressure your foundation is putting on the loosely packed soil and transfer it to stronger, more stable soil further down. Multiple piers are installed to ensure stability. Steel push piers can be installed wit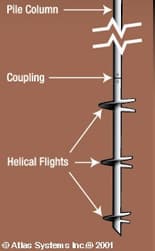 h minimal damage to any landscaping you may have around your home.
Helical Piles are very similar to push piers and can be installed in any weather condition. In some cases, helical piles can be more reliable than push piers. They are screwed into the soil instead of being pushed in, which increases their durability and their ability to bear loads. Once they are installed, the piers will immediately begin to transfer weight away from your foundation and help to lift the foundation to its original position.  Additionally, they can be installed in tight, hard-to-reach places, making them ideal for all repair jobs.
The need for underpinning can arise due to the following reasons:
The existence of below ground debris pits
The original foundation lost its strength and is no longer stable
The application or load of the structure changed
Modification of surrounding soils
The properties of the soil supporting the foundation have either changed or were not properly assessed during the original construction
Nearby construction created an unstable condition
---
 Click on the projects below for underpinning case studies:
Chicago Orchestra Hall Case Study
Cold Storage Warehouse Case Study
Computer Manufacturer Case Study
Support for Adjacent Excavation Case Study
Water Storage Tank Restored Case Study