Underpinning foundations is our most popular foundation repair technique. Underpinning strengt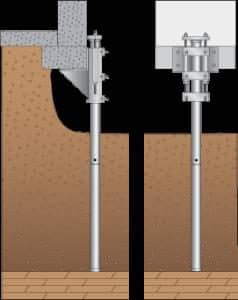 hens and stabilizes your foundation by transferring the load from the foundation. Specifically, when we underpin a structure, we extend the current foundation into a soil layer that is deeper and, therefore, more stable than the soil it is on now. We can do this by providing additional support from the footings using piers, piles, or anchors.
All of our foundation solutions create little to no disturbance to the installation site; so, we will not damage your landscape. We only install the best foundation repair equipment; so, our solutions are durable and affordable. We offer a variety of underpinning solutions, such as steel push piers, helical piles, wall plate anchors, and concrete piles.
Our Professional Underpinning Techniques
When it comes to foundation repair, there's no one-size-fits-all solution. That's why our company, Atlas Piers of Atlanta, offers a variety of professional underpinning techniques, including steel push piers and helical piles.
Our team of expert technicians will assess your unique foundation problems and recommend the best solution for your specific case. Whether steel push piers or helical piles, we use only the highest quality materials and state-of-the-art equipment to ensure a long-lasting, reliable repair that will keep your home or building strong for years to come.
Steel Push Piers
Steel Push Piers can be inserted into the ground beneath your preexisting wall. These piers take the pressure your foundation is putting on the loosely packed soil and transfer it to stronger, more stable soil further down. Multiple piers are installed to ensure stability. Steel push piers can be installed wit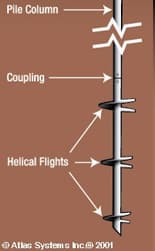 h minimal damage to any landscaping you may have around your home.
Helical Piers
Helical Piles are very similar to push piers and can be installed in any weather condition. In some cases, helical piles can be more reliable than push piers. They are screwed into the soil instead of being pushed in, which increases their durability and their ability to bear loads. Once they are installed, the piers will immediately begin to transfer weight away from your foundation and help to lift the foundation to its original position.  Additionally, they can be installed in tight, hard-to-reach places, making them ideal for all repair jobs.
When to Use Underpinning to Repair a Foundation
A stable foundation is essential for the longevity and safety of any structure. However, settling foundations and load-bearing walls can cause serious damage that requires repair. In such instances, underpinning is often the most effective solution for restoring the foundation's stability and reinforcing the structure.
Underpinning involves the installation of concrete or steel supports beneath the existing foundation, thus strengthening and stabilizing it. So, if you notice any signs of a damaged foundation, such as leaning chimneys, stoops, deck support columns, or garage columns, it's best to consult with experts to determine whether underpinning is needed.
This is particularly true if you encounter any changes in nearby soil after construction or if your original foundation has lost its strength. Addressing these issues before they escalate can save you significant time and money in the long run.