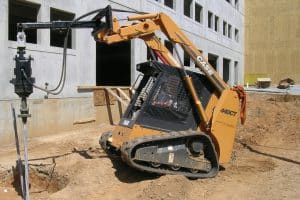 Do you need a dependable contractor for your commercial construction foundation project in Atlanta? You can count on Atlas Piers of Atlanta. We specialize in creating new construction foundation piles that ensure a strong and durable foundation for your building. We recognize the significance of preventing settlement problems, which is why we use the most advanced and modern technologies in our application methods. You can rely on Atlas Piers of Atlanta to initiate your commercial construction project with a stable foundation, and be confident that your structure will endure the test of time.
We pride ourselves on our ability to manage every commercial project personally, while completing them efficiently and cost effectively.  We realize that each new construction project can be a large investment. We want to help you protect and maximize that investment by assisting you to build your commercial structure on a permanently secure foundation.
Foundation Construction That Provides the Support You Need
When we do commercial foundation construction, we thoroughly assess what type of foundation is right for your structure. Then, we test the soil in the area to ensure that it can provide the support you need. If needed, we bring in additions or new fill soil, or we look into other solutions to help support your new foundation.
New Construction Foundation Piling
When it comes to new construction projects, it's important to ensure that your investment is protected from the very beginning. That means securing your commercial foundation with new construction foundation piling.
Here at Atlas Piers of Atlanta, we understand the importance of a secure foundation to prevent future settlement issues. By utilizing our new construction foundation piling applications, we can give you the peace of mind that your commercial structure has a permanent, solid foundation in place. Let us help you maximize your investment by ensuring that your new construction project has a foundation that will stand the test of time.
Expert Project Planning
Putting together a building is a huge project with lots of different components. So that your project stays on track, we utilize a range of expert project planning tools and processed.
We pride ourselves on our ability to manage every commercial project personally, while also completing them efficiently and cost effectively. Our objective is to always help our clients complete their projects on time and on budget. We work with both you and your building team to ensure that the foundation placement works with your general building schedule.
Helical Piles to Support Your Foundation Construction
We have new construction helical piles, and they range in capacity from 40,000 pounds to 250,000 pounds. That's the ultimate capacity of each helical pile, and we can utilize multiple piles in each foundation to perfectly meet your needs.
Helical piles provide the perfect support for your new commercial construction projects. They are hydraulically advanced, and they rotate deep into the ground to find suitable and stable soil to support your foundation. This approach provides permanent structural support to the foundation, and it will adequately prevent foundation settlement in the future. When you see buildings sinking into the soil, leaning to the side, or getting cracks in their foundations, that's usually because they didn't have a strong enough foundation to begin with. We provide quality commercial foundation construction so you don't have to worry about any of those risks.
Helical piles are often the best solution for commercial construction, because they are quickly installed, ready for immediate load transfer, are easily tested to verify load capacity, and provide verified, measured support. Helical piles can also be installed in all weather conditions, create no spoils and very little disturbance to the job site. Helical piles work and are often recommended because they work well with most soil types and provide a vibration free installation.