Commercial Resistance Pier Installation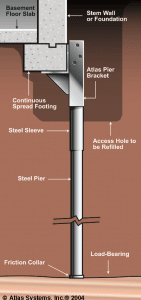 When it comes to building or stabilizing commercial structures, the ATLAS™ Resistance Pier System from Atlas Piers of Atlanta is the way to go. Made up of strong steel components, this innovative system uses hydraulic power to drive pipe segments into place, ensuring that foundations are fully supported and structures are stable.
Whether you're working on a new construction project or need to restore stability to an existing commercial or industrial building, the ATLAS™ Resistance Pier System is a reliable and effective solution. Trust Atlas Piers of Atlanta to provide you with top-quality products that will endure for years to come.
Commercial Resistance Pier Installation
A building's stability should never be compromised, especially in the commercial and industrial sectors where workers' safety and productivity are essential. Atlas Piers of Atlanta understands this concern and offers a reliable solution for buildings experiencing settlement issues. Our commercial resistance pier installation service guarantees long-term solutions for structures affected by ground deformation and settling issues.
Our team of experts carefully inspects the structure and soil type to determine the best approach for pier installation. We ensure a stable and efficient stabilization process with state-of-the-art techniques and industry-leading equipment that provides remarkable results. We offer a dependable service that gives peace of mind to our customers, knowing that their building is structurally sound and that their workers can carry out their duties in a safe environment.
What are Commercial Resistance Piers Used For?
Settling can damage property values, destroy structures, and make buildings unsafe. Underpinning with Commercial Resistance Piers offer the most cost-effective and long-lasting solution for repair of commercial, industrial and residential buildings, and retaining structures. Resistance Piers stop settlement. Atlas structural piers can also be used to raise structures, thereby closing up cracks and rectifying other structural flaws caused by settling and/or ground movement.
Commercial Resistance Piers are used for repair of tower foundations, warehouse buildings, equipment and machinery foundations, etc. Special remedial brackets can be used to repair existing foundations by connecting them to either the side or bottom of the existing foundation, or to the sides of building columns.
Our Commercial Resistance Piers
When it comes to commercial foundation repair, the installation process is crucial to the success of the project. At Atlas Piers of Atlanta, we take pride in our innovative commercial resistance pier installation process. Our push pier system uses the weight of the structure itself to drive pipe piers into the soil, providing reliable and long-lasting support for your commercial property.
Our patented Atlas support system is specifically designed to ensure that piers are driven to the necessary depth for secure and verifiable structural support. With our experienced team of professionals and top-of-the-line equipment, you can trust Atlas Piers of Atlanta for all your commercial foundation repair needs.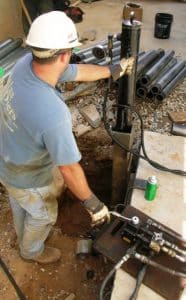 Installation Process
In a two-part process, the pier pipe is driven down to a firm stratum that will properly bear the structural load. Lift equipment and a system of hydraulic manifolds with individual lifting jacks are used in combination to lift the structure (if necessary), to provide measured support strength. This system establishes the structure at the desired elevation, and it permanently stops settlement.
Load Bearing Capacity
Underpinning systems have bearing capacities ranging from 60,000 to 120,000 PSI each. Atlas piers are optimally spaced to force greater lift to the structure than required. This methodology effectively load tests individual piers prior to lifting, and it provides the measured Factor of Safety (FS) at lift, on each pier.
Workspace Required
Workspace is usually not a problem when installing ATLAS™ Resistance Piers. Portable equipment can often be used, which requires a very small square area. The piers can be installed on footing from the interior or on the exterior.
Composition of Resistance Piers
The ATLAS™ Resistance Pier is a patented two-stage pile foundation system. The unique structural support system is designed to provide appropriate strength of structural support. The system design process should involve professional engineering, specific information about the structure, foundation condition, and soil characteristics. Atlas experts evaluate and incorporate all relevant information into the final design of an optimal support system for your building. MDTI manufactures the ATLAS™ Resistance Pier for our resistance pier applications.
Advantages of the ATLAS™ Resistance Pier Foundation System
A properly installed resistance pier system can stabilize a foundation and prevent future settlement. It can restore structures virtually to their original positions prior to settling. This solution can also often close up cracks and remedy other structural defects caused by settlement. ATLAS™ Resistance Piers are selected for your application, based on load requirements, soil conditions and structural issues. Atlas offers a wide range of engineered capacities, and we manage all other specifications to fit your project requirements.
Immediately load bearing supports
Individual load-testing of piers during installation
No structural vibrations
No spoils requiring removal
Portable equipment requires very small access areas for installation
Cost-effective solution
Materials
All Atlas foundation repair and construction products are manufactured by the world's highest quality manufacturers of products for our industry. MDTI manufactures the ATLAS™ Resistance Pier for our resistance pier applications. By using only the strongest products available for foundation construction and repair, we can ensure against future problems with settling.
Cost Effectiveness
We use high-quality products. However, we understand that our products and services must be cost-efficient for our clients. Therefore, we pay careful attention to selecting the best quality of product to provide the highest level of practical value for your project. Our job is to make sure that your building's foundation is permanently supported by a foundation that will remain strong and stable.
Atlas Piers of Atlanta, Inc. – The Southeast's Trusted Piering Experts
As one of Atlanta's pioneers in foundation installation and repair, we've stood the test of time, and we've developed processes and products to withstand our region's climatic and geological challenges. Atlas provides our clients with an exceptional level of experience, effectiveness of strategic solutions, workmanship, and quality of materials. Through over 60,000 successful installations, we have built a reputation in our industry for our skill and integrity. As a result, Atlas's repeat business includes high-profile clients, architects, engineers, business owners and homeowners throughout the Southeast United States.
Contact Us Today for a Free Foundation Piering Consultation
For more information about commercial underpinning, or to make an appointment for your free consultation and quote, contact Atlas Piers at (770) 268-0369 to speak to one of our experts. For all your commercial and residential foundation repairs and new construction projects, you can count on the professionals at Atlas Piers.