Residential Helical Piles and Anchors In Atlanta
Applications:  Stoop/Deck Support Columns, Room Additions, Bay Windows, Garages, Settling Foundations, and Load Bearing Walls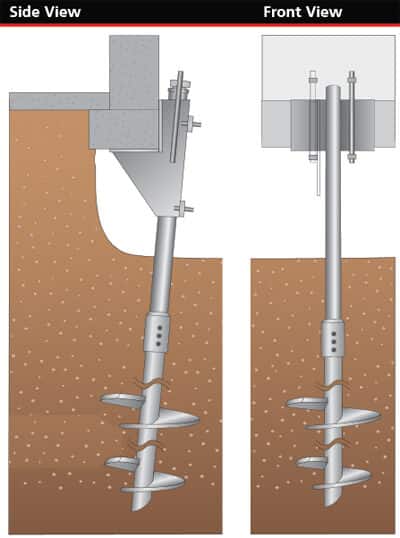 Foundation problems are serious issues that should be handled by professionals and not taken on as "do it yourself" projects. In the event that you notice warning signs of foundation failure, contact the pros at Atlas Piers for a free estimate! These signs include:
Sticking Windows
Sticking Doors
Wall Cracks
Leaning Chimney
Bowing Walls
Leaning Walls
Sinking Garage
Sloped Floors
Helical Piles for your Atlanta Home
Most of our residential foundation repair projects are resolved with the use of helical piles. Helical piles are similar to resistance piers, or push piers. They are used to support your home from underneath. Many people are turning to helical piles rather than push piers because it is believed that helical piles are more stable. Instead of being simply pushed into the ground, they are screwed in. Therefore, they won't lean or wiggle around and are more reliable than push piers. In order to support your home, they attach to an already existing wall and redistribute the weight from near the surface of the ground down to a lower level to a more suitable and stable part of the earth–making it much easier to support the weight of the home. Helical piles can also be installed in tight, small, and hard-to-get-to places. All the products used by Atlas Piers are made by the best foundation repair product manufacturers in the industry.  The Atlas team is available to help find the best solution for your foundation repair issue. Contact us for more information today!