Atlas Piers of Atlanta offers residential helical piers and anchor services throughout Georgia and the southern United States, providing homeowners with permanent, cost-effective solutions that can be used to protect their foundations.
Helical piers are installed directly into the ground and offer a secure anchoring point for structures that require extra support. Our helical pier system is engineered to withstand all types of soil conditions, so it is suitable for any type of home in the area. With our helical pier system, homeowners can be sure that their foundations will remain safe and sound against settling or other types of soil damage. Our team has years of experience installing helical piers throughout the region while offering quality workmanship and competitive rates. Contact us today to learn more about what we can do for you!
Residential Helical Pier Installation
A sturdy foundation is key to the stability of your home. If your foundation doesn't support your home's weight, you may notice doors or windows not shutting properly, cracks in the walls, or even slanted floors. Eventually, foundation issues can lead to serious structural issues with your home. One solution is residential helical piers installation.
If you're looking for helical pier installation for your residential property, Atlas Piers of Atlanta is the answer. Our experienced technicians use advanced techniques and cutting-edge technology to ensure superior quality delivery. Additionally, we understand that helical piers need to be done correctly the first time around and dedicate ourselves to providing installation services with precision. With our expertise and reliability, you can rest assured that helical pier installation from Atlas Piers of Atlanta will stand strong as a dependable support system for a long period of time.
What Is a Helical Pier?
A helical pier is a steel foundation pin. During helical pier installation, this manufactured support gets driven into the soil by hydraulic machinery, and it can even go below the frost line if necessary. Generally, there's a helical bearing plate on the base and a cap on the top. The plate hits the ground while the cap connects with the structure being supported.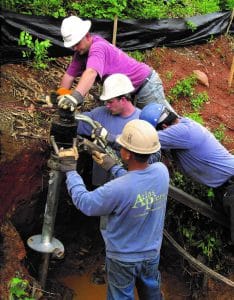 What Are the Advantages of Residential Helical Piers?
Also called helical piers, these piers can support a deck as well as a whole home, and they can be installed in new or existing construction. When you hire a contractor to install a helical pier to support an existing home, one portion of the pier attaches to an existing wall and then, the pier stretches out into stable soil near your home to get the support it needs. Due to this set up, helical piers can also be a way to address foundation issues that are due to soil composition. Essentially, the helical pier distributes the weight of your home into nearby soils that are stronger than the soil immediately near your home.
What Should You Do If You Need Help With Your Foundation?
If you're having issues with your foundation, you should contact Atlas Piers. We start by looking at your foundation and exploring possible solutions with you. We have geotechnical specialists on staff who can take into account everything from the weight of your home to the condition of the surrounding soil to the natural swells in the land, and that's just the beginning. Based on that information, we help you decide if you need helical piers or another type of support.
If you decide to go for helical pier installation, we then figure out the best locations for the piers, and we hone in on the right size of piers for your home's need. One of the best parts of using helical piers is that you can figure out how much weight they can hold before we even install them. Then, we map out the installation schedule so you know what to expect.
Why Should You Choose Atlas Piers for Your Home?
Atlas Piers is the premier helical pier installation service in Atlanta and the surrounding area. With over 30 years of experience, our customers trust us to provide quality services competitively priced on the market. We use helical piers which are designed to last a lifetime, making your investment worth the money. Our experienced team is here to answer any questions you may have in order to make sure that your project is completed according to your specific needs and requirements.
When it's time to choose Atlas Piers for your home or business' helical pier installation, you know you're getting expertise and excellence from an organization that puts customer satisfaction at the top of its priority list.