Problem: Dangerous Foundation Failure
Sometimes issues come up that cannot wait to be resolved. They aren't planned, and you need them fixed right away. You need to know you have a repair team you can count on for all types of emergency foundation services. You have a foundation that is close to failure,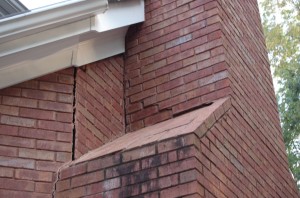 or your building is in need of extra support right away. We can help with any emergency foundation problems you might have. You can depend on Atlas Piers of Atlanta for all your emergency foundation services in Atlanta needs. We support Atlanta and the surrounding area. We have a large service area and it is very likely we cover your area.
Problems that might need emergency foundation repair include:
bowing or leaning walls that you believe may collapse

swaying chimney that may collapse into a home
cracks that allow in dangerous amounts of water
If you are unsure whether your home is in need of emergency services or not, contact Atlas for more information.
Solution: Shoring
We offer shoring services to our clients that are in need of extra support in their homes. Shoring is needed when a new building needs extra support. Sometimes, during construction, the walls being built need extra support to prevent leaning or falling.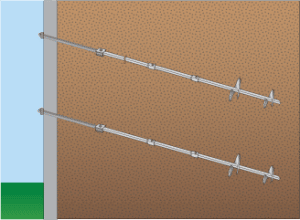 When we use our shoring process, the construction project can proceed without harming the integrity of the structure. Helical tiebacks and plates are installed into your home's leaning or bowing wall, or even into a retaining wall. These are steel plates that are put onto the surface of the wall with a steel rod running diagonally through the wall and into the soil. This will stabilize the wall and lift it into its original position.
Solution: Underpinning
Another service we offer is underpinning. This can strengthen, stabilize, and lift the foundation of most existing buildings or structures. Sometimes, when you have an emergency foundation repair, all it will take is an installation of helical piers or resistance piers to add support and stability in a pinch. These are commonly used underpinning products, and we utilize the best products in the industry from Earth Contact Products.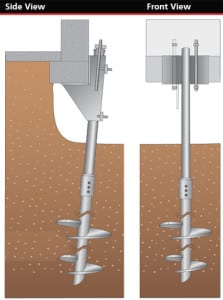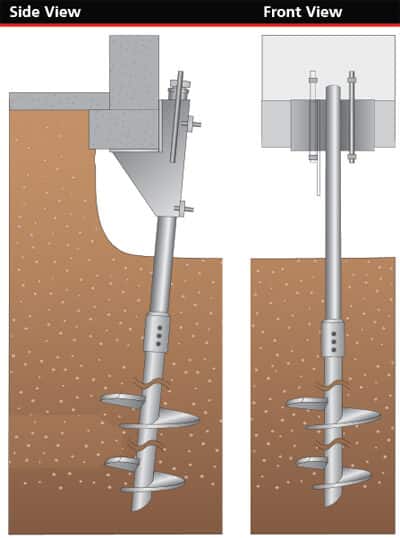 Helical and resistance piers are very useful in underpinning because they can be installed in various weather situations, and the installation is usually quick, easy, and extremely effective. We can be there any time you need in an emergency and we will make it out priority to get things to a safe point fast.
Foundation problems in Georgia should not be ignored, especially when they are a danger to your home. They can dramatically decrease the value of your home and threaten the safety of your family. If you notice something wrong with your foundation, don't hesitate to contact a foundation contractor from Atlas Piers.
Call us today for help, and we will be there for all your commercial and residential emergency repairs!