Commercial Foundation Repair in Jackson Tennessee
When you see foundation failure signs, you might feel the need to panic. However you really don't need to. Just a little ways away is a professional team with years of experience in underpinning, crack injection, mud jacking, shoring, carbon fiber repair, hardscaping, and all other forms of foundation repair. As a business owner, you can watch for the signs, and then call us right away. Watch for these signs of foundation failure and settlement:
When and if you notice these signs in your Jackson business, don't hesitate to pick up the phone and call us at Atlas Piers. There is no reason to wait on commercial foundation repairs. Your company is your biggest investment, and we plan on helping you keep it's foundation in great shape. This will keep the value up and your livelihood safe.
Commercial Foundation Repair Solutions in Jackson Tennessee
Atlas Piers of Atlanta offers an extensive list of foundation repair services in the Jackson area. Whatever problem your home may be experiencing can easily be repaired with our high quality Earth Contact Products. Your home may simply be in need of pressure grouting or carbon fiber strips. Pressure grouting involves filling the spaces between your foundation and the sinking soil with concrete to prevent further sinking and cracking. Carbon fiber strips are an eco-friendly repair that are often used in cases of cracked, bowing, or leaning walls.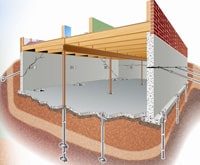 Underpinning may be another solution for your home. Atlas can install helical or resistance piers, both of which are dependable, durable solutions. These piers are inserted beneath your walls and, upon installation, immediately begin pushing your foundation back to its original position. Underpinning is a great investment to make in your home and can repair many problems such as floor cracks and sloping floors.
So no matter what solution is needed, we can provide it. It could be helical piers to lift your settling foundation, or carbon fiber strips to resolve bowing or leaning walls. No matter what, we have you covered. Call Atlas Piers of Atlanta, your commercial foundation repair Jackson Tennessee team.