If you're a homeowner in Rome, GA, getting your foundation repaired is an important matter that requires immediate and effective action. Atlas Piers of Atlanta is the go-to company for dependable and skilled foundation repair services.
Our highly-trained technicians are committed to bringing back your home's foundation to its original durability and strength. We employ cutting-edge equipment and modern methods to guarantee that your foundation is sturdy and safe for many years to come. Count on us to deliver the finest foundation repair services available in Rome, GA.
Foundation Repair Solutions for Rome Georgia
As a homeowner, you want to ensure that your property is in good condition and safe from any structural damage. If you live in Rome, Georgia, and notice any cracks in your foundation, finding a reliable and experienced company to handle the repair is essential.
At Atlas Piers of Atlanta, we've been providing quality foundation repair solutions to Rome and the surrounding areas for many years. Our team of experts uses the latest technology and equipment to diagnose and fix any foundation issues you may have. We understand that foundation problems can be stressful, but with our help, you can rest assured that your home will be stable and secure for years to come. Contact us today to schedule a consultation, and let us take care of your foundation repair needs.
Foundation Underpinning
Underpinning, or the installation of foundation piers to support a settling or sinking foundation is our specialty. In this process, a pier is driven into the ground to shift the weight of the foundation from unstable soils to the more sturdy ground beneath.
Foundation Piering
We use a variety of different pier for this method, including: helical piers, steel push piers, slab piers, and porch piers.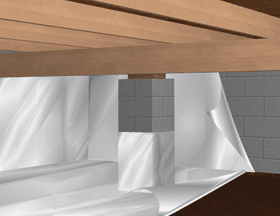 Helical Tiebacks
Helical tiebacks are often used to repair bowing or leaning walls. They apply horizontal pressure opposite to the direction of the lean to straighten the wall.
Carbon Fiber Strips
Carbon fiber strips are another method that can be used to fix leaning or cracking foundation walls. These strips provide the wall with strength and stability, locking it in place and closing any cracks that may have formed.
Basement Encapsulation
Atlas Piers offers wall encapsulation, a waterproofing method that involves the installation of a vapor barrier along the walls of the crawlspace or basement. The barrier seals out moisture, not only leaving the area dry and mold-free, but also leaving the air in the entire home fresher and healthier.
Why is foundation repair important in Rome Georgia?
The climate in Rome includes quite a few temperature changes. As temperatures change, soils expand and compact. The more this process occurs, the stunning as ancient Rome buildings, but they are just as important to us. We take protecting the foundations of Rome's homes seriously. With a humid subtropical climate, the foundations in Rome face a few potential issues. With various seasons, Rome experiences various temperatures. Winters bring temperatures just below the freezing point, while summer days reach ninety degrees. Rain falls throughout the year to make for a annual average of about 54 inches. The national average is only 36.5 inches. This precipitation can lead to problems for the homes in Rome. Luckily, you have the professionals at Atlas Piers of Atlanta here to help.
Call Rome's Trusted Foundation Repair Experts
When dealing with the foundation of your home, it is crucial to enlist the services of a reliable and experienced company to handle the repairs. Atlas Piers of Atlanta is the preferred choice of homeowners in Rome, Georgia due to our vast knowledge and cutting-edge equipment, which enable us to pinpoint and resolve any foundation problems.
Our team of experts will collaborate with you throughout the entire process to guarantee your contentment. Don't overlook any foundation issues, take action by contacting Atlas Piers of Atlanta today for a dependable and efficient solution.