Hollow Bar Anchors Alabama
One of the most important aspects of your home is the foundation. Problems with your foundation can be very serious, and often lead to issues in other areas of your home. If you notice any sign of a failure with your foundation, do not try to repair it yourself. Instead, call a professional foundation repair contractor to have the issue examined and repaired as soon as possible. Common signs of a foundation problem are wall cracks, floor cracks, bowing or leaning walls, and windows or doors that stick. These are all indications that something is wrong with your foundation. For many foundation problems, the best solution is to use hollow bar anchors and piles, also known as micropiles.The professionals at Atlas Piers are always ready to help with all of your foundation repair needs.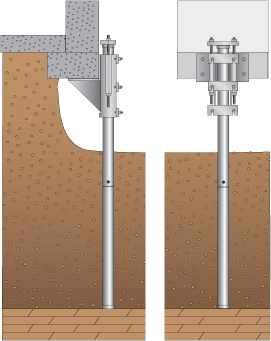 Hollow bar anchors Alabama are made from a high yield micro alloy steel tubing. They are installed with the injection bored method. This method involves pressure pumping a cementious grout while the anchor itself is being drilled into the ground. There are many benefits to this method, one being the ease of installation. Because it is one step, and the grouting and drilling process are simultaneous, the installation is simple and fast. Another benefit of using hollow bar piles Alabama is that this method allows the use of smaller equipment, meaning that it is easier to use hollow bar anchors and piles in low overhead, limited access areas where other types of bracketing systems may not be an option.
Advantages of Using Hollow Bar Piles Alabama
Micropiles have a high load bearing capacity – they are able to support a large amount of weight, making them suitable for a wide variety of foundation repair situations. They can also penetrate obstructions in the soil. This makes them tough and versatile, easy to use in areas where the ground is not soft or pliable. Because of their durability, hollow bar piles Birmingham AL are especially useful in cases where normal foundation repair systems do not work because of excessive debris or hard rock/soil layers.
If your foundation is failing due to unreliable soil, hollow bar anchors Birmingham AL may be the solution for you. Usually, major foundation problems like a shifting, sinking, or cracked foundation arise from issues with the soil underneath the foundation. This can be caused by several different things: poor compaction at the time of construction; erosion; expanding soil; and dried out, contracting soil. Installing one or more hollow bar pile will lift and support your structure, giving it the stability that is needs to remain safe.
Atlas Piers provides quality micropile repair solutions, with products from ECP (Earth Contact Products), the leading manufacturer of steel foundation repair products. Contact us today if you are in need of hollow bar anchors Alabama!