Commercial Foundation Repair Alabama
Atlas Piers serves Alabama with quality work you can count on. Your home is one of your most prized possessions, and it should be protected. Quality foundation repair in Alabama is our key concern. Whether you've noticed cracks in your floors or your basement wall is bowing, we'll be able to fix the problem and its underlying cause. Our coverage area is continuously expanding. If you need any commercial foundation repair Alabama service and do not see your city listed, please contact us, we may have already expanded into your area.
Seal Moisture Out of Your Home
Many Alabama buildings develop foundation cracks over time. These cracks can let in moisture, and develop into bigger problems. They can lead to foundation failure. If not treated, they can become a huge headache. If you try to deal with the cracks in your business by yourself you are probably not as experienced as one should be when working with preventative measures to properly deal with wall cracks.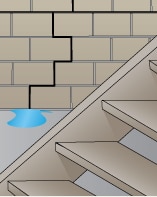 We suggest hiring an experienced professional. Unfortunately if you have a dampness, moisture can harm your health and the structural integrity of your home.
Most business owners are incorrectly assume that  doors, windows, and vents are responsible for all their moisture problems in the home, but that isn't always the case. You need to factor in humidity, moisture and wetness in your basement is the source and can cause your business' structural problems. If you're experiencing excess moisture, chances are your home's foundation is the cause.
Crawlspace Encapsulation in Alabama
If you home or business in Alabama has a crawlspace, it is likely that you don't check it as often as you should to see if it is wet or damp. A wet or damp crawlspace can harm the structures foundation and also cause health issues to you and your family. It is the perfect place for mold and mildew to grow and thrive. This causes many health problems such as:
Skin irritation

Throat irritation
Eye irritation
Respiratory problems
Cough
Water can enter your crawlspace from a variety of sources including ground water, plumbing leaks and heavy rain. The moisture causes high humidity, wood rot, and the mold and mildew. Your utility bills will be higher is you have a damp or wet crawlspace.
Let the experts at Atlas Piers of Atlanta give you the solution you need for your wet crawlspace. We can do crawlspace encapsulation using a vapor barrier. This vapor barrier will line the entire crawlspace and keep the moisture out. We use a vapor barrier made by Earth Contact Products (ECP), the best in the industry. These vapor barriers are 10-mil and 16-mil thick and puncture resistant. Other vapor retarders are only 6-mil thick and are not puncture resistant. If even a small hole gets into this material, it is useless.
The ECP vapor barrier is manufactured using a triple-ply woven high density polyethylene membrane. It is white in color to brighten your crawlspace and has the highest strength to weight ratio, highest tensile strength, and tear resistance of any product on the market.
For your crawlspace encapsulation, let Atlas Piers of Atlanta install the best vapor barrier there is and with our experience, you will be getting the best. Contact us today for your crawlspace encapsulation needs.
Keep Your Foundation Supported With Helical Piles Alabama
One common method to repair foundation problems that are causing bowed or cracked walls is to use helical piles. A helical pile is much like a type of resistance pier, or push pier that support the structure from underneath. They are becoming more and more popular as they are generally more stable than ordinary push piers.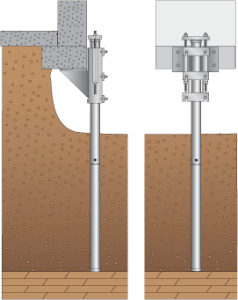 This is because they are screwed into the ground instead of merely pushed into it. They work by attaching to a wall and shifting the weight from near the surface to a lower, more stable part of the ground, where it is much easier to support the weight of the structure. Atlas Piers can provide you with quality helical piles Alabama foundation repair options.
The following are the most common methods of foundation repair.
The method of repair is a decision you will have to make if you need foundation repair. You may decide based on the information you research, and the advice from us here at Atlas Piers foundation repair. This important decision should not be taken lightly. Your business is a very valuable asset.
Call us today to schedule an appointment for all your commercial foundation repair Alabama needs!
Some of Our Services Include:
Foundation repair, carbon fiber repair, tiebacks, shoring, underpinning, cement grouting, resistance piers, helical piers, wall anchors, and more!