Residential and Commercial Foundation Repair in Albany Georgia
Albany, like the majority of the state of Georgia, can experience heavy rainfalls and high humidity year-round. The high moisture content of the soil can lead to pressure on Albany homeowners' basement walls and foundation, causing a variety of problems. The dry season in Georgia can cause the soil beneath your foundation to sink and settle prematurely, leaving gaping holes beneath your foundation. All of these problems can dangerous, so they must be taken care of immediately.
Signs of Foundation Problems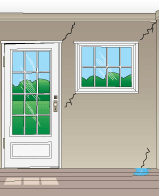 Foundation issues can be a homeowner's worst nightmare. But how do you know if your house is in need of foundation repair? Signs indicating possible foundation failure can often be seen in walls, floors, and chimneys. A leaning wall, cracks in your walls or floors, or sloping floors could all be warning signs. And don't forget windows and doors- if they're sticking, it could result from foundation issues.
If you're experiencing any of these problems, seeking professional help is important. For foundation repair in Albany, Georgia, look no further than Atlas Piers of Atlanta. Our team of experts will assess the situation and offer the best course of action for your home or business.
Albany Georgia's Best Foundation Repair and Waterproofing Services
If you're struggling with a cracked or sinking foundation in Albany, Georgia, Atlas Piers of Atlanta can help. Our team is dedicated to providing effective and durable foundation repair solutions, knowing foundation problems can be a source of stress and inconvenience.
We offer a comprehensive range of repair services, including foundation lifting, stabilization and correction, to ensure the safety and stability of your home. Our experienced professionals and top-notch products guarantee your foundation will be restored to the highest standards. Get in touch with us today to schedule a consultation and discover more about our services.
Pier Installation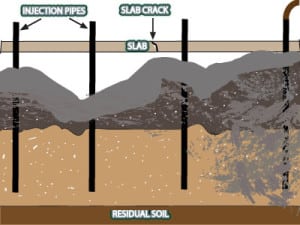 Foundation piers are installed in a process called underpinning. Underpinning involves inserting steel piers beneath your pre-existing walls, deep into the soil. These piers will take the weight off of the less-compacted soil directly beneath the foundation and transfer it to more stable soils further down. Underpinning lifts your foundation back to its original position and prevents further sinking. Piers can be installed in a variety of weather conditions.
Pressure Grouting
Pressure grouting is used to fill voids beneath your concrete, whether it be in your garage, home, or driveway. Sinking soil causes big gaps of air to form directly beneath your concrete. These gaps provide no support for the heavy concrete, causing the concrete to crack, heave, or even fall into the void. Pressure grouting fills these voids with a high concentration injection inserted through small holes drilled into the concrete.
Helical Tiebacks
Helical tiebacks are inserted diagonally into your basement walls. They are used to decrease the pressure caused by heavy soils outside the wall and to lift bowing or leaning walls into their original position.
Carbon Fiber Foundation Repairs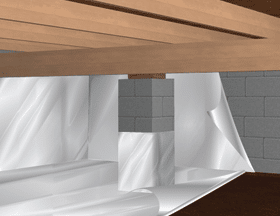 Carbon fiber strips are a cost-effective, eco-friendly method of repairs that are quickly becoming more popular. Carbon fiber strips can be applied to walls that are bowing or cracking to strengthen the wall, correct any deformities, and seal cracks. These strips are barely visible and can easily be painted over.
Crawlspace Encapsulation
Crawlspace encapsulation is a method of basement waterproofing that is offered by Atlas Piers of Atlanta. It involves installing a waterproof vapor barrier in your crawlspace that will keep out all excess water or moisture.
Call Atlas Piers for A Free Foundation Inspection

View Larger MapDon't let foundation problems go unnoticed or unresolved. Atlas Piers provides reliable foundation inspection services so you can rest easy knowing your home or business is on stable ground.
Our expertise in helical pier installation and carbon fiber repairs means we can handle any issue, big or small. Plus, with our commitment to transparency, we provide accurate estimates of repair costs so you can make informed decisions about your property. Contact Atlas today and let us help you keep your foundation strong and secure.