Looking for concrete repair services in Atlanta? Look no further than Atlas Piers of Atlanta. With years of experience, our team has seen and fixed it all – from small cracks to major breaks caused by water damage and soil shifts. Don't let these issues ruin your outdoor living space. Trust Atlas Piers to handle all your residential concrete repair needs.
We pride ourselves on our attention to detail and excellent customer service, ensuring you'll be left feeling confident and satisfied with the final result. Contact Atlas Piers of Atlanta today and let us help solve your concrete repair problems!
Common Signs of Concrete Problems
Your residence is similar to a fortress, but it requires occasional upkeep as well. If you have observed any typical indications of concrete damage, such as uneven sidewalks or a sinking stoop, then you should consider contacting Atlas Piers of Atlanta.
Cracks in your garage floor or driveway are unsightly and may result in larger issues in the future. Don't wait for the problem to worsen; instead, call Atlas Piers of Atlanta for swift and dependable concrete repair.
While sticking doors or windows in your garage may appear insignificant, they can also suggest a larger concrete issue. With Atlas Piers of Atlanta, you can take advantage of complete foundation repair services that will restore your home's grandeur.
When to Call A Professional Concrete Repair Contractor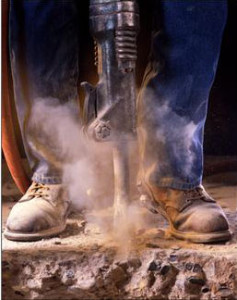 When it comes to home repairs, it can be tempting to DIY your way through every issue that pops up. However, some things are better left to the professionals, and concrete repair is one of them. Not only can attempting to fix these issues on your own be time-consuming and frustrating, but it can also create additional problems if not done correctly.
Cracks in your driveway or garage may seem like a small issue, but in reality, they can significantly impact the value of your home and the safety of your family. That's why it's essential to call a professional concrete repair contractor like Atlas Piers. Don't worry about jackhammers and a big mess to clean up. The experts at Atlas Piers ensure their services are clean, efficient, and affordable, giving you peace of mind and a beautiful, safe home.
Call Atlanta's Trusted Concrete Repair Contractors
If there's one thing that can ruin your home's curb appeal, it's cracked and uneven concrete. Cracked concrete is not just an eyesore but a safety hazard too. But don't worry; replacing your entire driveway or sidewalk isn't necessarily the only solution.
At Atlas Piers of Atlanta, we have years of experience in concrete grouting and use only the very best products to provide the highest quality repairs. Our team of trusted concrete repair contractors in Atlanta can drill small holes, fill the voids, and seal the holes, leaving your concrete looking and functioning like new again. So why wait? Call us today for all your residential concrete repair needs – we are the proven specialists you can trust!