Douglasville's Best Foundation Repair Services
As a homeowner in Douglasville, you're probably well aware of how unpredictable the weather can be. Although most residents enjoy the changing seasons, the high humidity and frequent rain can lead to issues with your home's foundation. This is where Atlas Piers can help.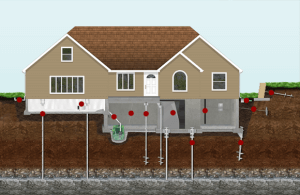 Our team of skilled professionals has years of experience in foundation repair services specifically tailored to the needs of this region. We use the latest technology and techniques to ensure your foundation is repaired quickly and effectively, with minimal disruption to your daily routine. Don't let foundation issues become a source of stress – contact Atlas Piers today for the best foundation repair services in Douglasville.
Commercial Foundation Repair
As a business owner, ensuring the soundness and stability of your commercial property's foundation and structure is paramount to its longevity. With our dedicated team of experts, Atlas Piers are specialists in the field of commercial foundation repair in Douglasville, GA, and have decades of experience in providing unparalleled quality workmanship.
Our services include everything from foundation repair to structural repair for commercial and industrial properties. When it comes to the safety of your business, rely on our team at Atlas Piers for all your foundation repair needs.
Our Foundation Repair Solutions
As a team at Atlas Piers, we are dedicated to providing specialized foundation repair services to the people of Douglasville, Georgia. Our services range from popular options like underpinning to other methods tailored to meet your specific concerns.
If you're facing bowing or leaning basement walls, we offer helical tiebacks in addition to carbon fiber strips, which are eco-friendly and can repair cracks and leaning walls efficiently. We also offer wall encapsulation that can keep basements and crawlspaces waterproof and prevent moisture from getting in. Our diverse range of foundation repair solutions is designed to ensure your home's foundation is secure and stable for many years to come.
Contact Us Today For A Free Inspection
If you have noticed any signs of damage to the foundation of your home, you should address the problem immediately. The foundation is the backbone of any building, and it is essential to keep it secure and stable. Atlas Piers in Douglasville, Georgia, has a team of experts specialized in foundation repair.
We can restore and stabilize your foundation with our professional and reliable services. Don't let your foundation problems prolong, contact us today for a free inspection and get the peace of mind that comes with a secure and stable foundation. Experience our exceptional service by reaching out to us today!