Foundation Repair in Douglasville Georgia
Douglasville is a part of the humid subtropical climate zone because it experiences various seasons throughout the year. Summers bring highs in the upper-eighties, while winter lows drop into the upper-twenties. About 54 inches of rain fall every year in Douglasville, almost ten inches more than the national average. Though this weather is generally enjoyed by the citizens of Douglasville, it can cause some potential problems for their homes.
Commercial Foundation Repair in Douglasville GA
When temperatures vary, soils expand and compact. As this occurs, the soils actually weaken over time. If temperatures change more often though, as they sometimes do in Douglasville, the soil can weaken quickly. Because a home relies on the ground beneath it for support, it is important that it maintains its strength. If the ground begins to sink or settle, the home above it may do the same thing. This is called foundation settlement. You'll notice things like sticking doors and windows, walls and floors cracking, porch and patio problems, basement wall problems, and even a chimney leaning.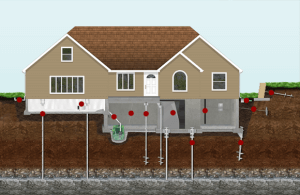 Water can also cause some potential issues. With heavy rain, the ground around your home can become overly saturated. This then puts what is called hydrostatic pressure on your home's foundation. If this pressure becomes too much too bear, your foundation may crack. If you think your home is experiencing a problem like one of these, don't hesitate to give us a call! The longer the problem progresses, the worse it will become. We can help stop them in their tracks with our foundation repair products and expertise.
When you need foundation repair in Douglasville Georgia, you can count on us using the very best products on the market. Earth Contact Products make the foundation repair products that provide the support for your foundation. Helical piers and steel push piers are installed under your foundation to much stronger bedrock that can keep your home from sinking further and causing the foundation issues that you have been seeing. The helical piers are screwed into the ground and the weight of the foundation is then transferred to the piers evenly. If you have bowed walls, you may need to install helical tieback. These helical tiebacks will support the wall from the side to keep them from bowing even more. All of these products work well when the soil around your foundation is not perfect. Your home is now much safer for your family.
Underpinning is not the only foundation repair method that we specialize in here at Atlas Piers. We provide the people of Douglasville, Georgia with a variety of foundation repair solutions to help in any situation. If you or your foundation repair contractor have noticed voids developing underneath your foundation, you are in need of pressure grouting services. We offer professional pressure grouting to fill voids and support a sinking or settling foundation. Although helical tiebacks are a great solution for bowing or leaning basement walls, there is another repair option: carbon fiber. Carbon fiber strips are an eco-friendly way to repair a leaning or cracking foundation wall. These strips are applied to the wall to to provide strength and support. They work to lock the wall into place and close any cracks that may have formed. We also offer wall encapsulation for basements and crawlspaces. This is a waterproofing method that is used to seal out moisture. In the encapsulation process, a vapor barrier is installed along the walls of the area. The barrier prevents moisture from entering, leading to not only a dry and mold-free crawlspace or basement, but also to cleaner, healthier air throughout the entire building.
We are your foundation repair Douglasville Georgia experts. Contact us to help with your next issue or project!