Commercial Foundation Repair in Fort Lauderdale Florida
Atlas Piers of Atlanta provides foundation repair services to Fort Lauderdale, Florida, and the surrounding areas. Because there is little change in temperature throughout its seasons, Fort Lauderdale has a tropical rainforest climate. It receives about 63 inches of rain every year.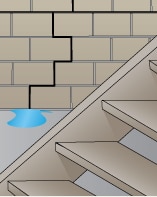 When compared to the national average of only 36.5 inches, you can see just how much rain that is. Fort Lauderdale has a strong wet season with many afternoon thunderstorms. This is when most of the city's rain falls. While the thunderstorms can be a nice break from the summer heat, they can also pose potential problems for businesses in Fort Lauderdale. Atlas Piers is here to help solve those problems. After all, we are your commercial foundation repair Fort Lauderdale Florida service providers.
Commercial Foundation Repair in Fort Lauderdale FL
The thunderstorms during Fort Lauderdale's summers bring heavy rains in a very short amount of time. This doesn't allow much time for all of that water to sink into the ground. Because of this, the ground may become overly saturated. This can place what is called hydrostatic pressure on surrounding commercial building's foundations. If the amount of pressure surpasses the load the foundation was built to withstand, it may begin to crack. These cracks let in unwanted water, insects, and critters. If you want to treat or avoid such a problem for your business, we can help. Using professional foundation repair products like piers and piles, we can give your foundation the support it needs to withstand the hydrostatic pressure. Heavy rains will be the least of your worries in the future because you'll know your foundation can handle it.
When it comes to commercial foundation repair, you won't find a better company than Atlas Piers. We are your provider of commercial foundation repair in Fort Lauderdale Florida. We are here to help you!

View Larger Map