What causes foundation failure in Gainesville, Georgia?
Gainesville is a part of the humid subtropical climate zone because there is a definite change in seasons. Summers are hot, bringing temperatures in the nineties. Winters can bring temperatures in the thirties, but temperatures can swing up and down with various cold fronts and wind fronts. The city receives about 54 inches of rain every year, much higher amount of precipitation can actually contribute to some foundation issues for homes in Gainesville. That's where we come in. Atlas Piers of Atlanta is your foundation repair Gainesville Georgia service provider.
Foundation Repair Solutions for Gainesville, Georgia
When temperatures vary, soils expand and compact. The more this happens, the weaker soils become. If this happens in a short period of time, like during Gainesville's moody winters, the soil can weaken very quickly. This can cause foundation settlement. The ground loses its original strength, the strength homes are built on, so it sinks or settles. The home above the ground may do the same. You'll notice things like cracking walls and floors, sticking doors and windows, and a leaning chimney. We specialize in helping deal with problems like this, so if you think your home is suffering from foundation settlement, give us a call.
Rain can cause similar issues. When the soils around your home become overly saturated, they expand and place what is called hydrostatic pressure on your home's foundation. If a lot of rain comes in a little amount of time, there will be a large amount of pressure placed on your home. If this load surpasses that which the foundation can hold, it may begin to crack. These cracks will only lead to worse problems down the road. If you think this is happening to your home, contact us as soon as you can.
When your home shifts and settles because of poor soil or saturated soil, you must come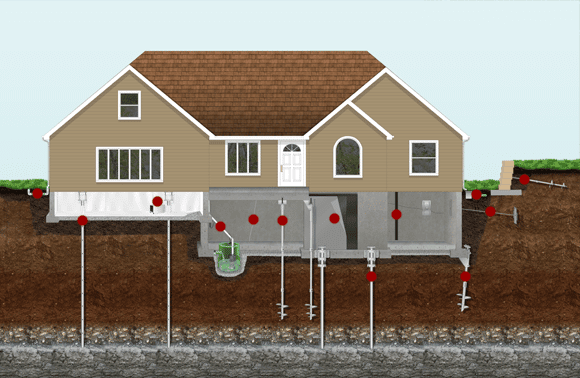 up with a plan. Contacting a professional from Atlas Piers can help to put your mind at rest that you have a plan to strengthen all your supports. You might need to do some underpinning. This is where steel push piers are placed under your foundation to give support to your foundation. The underpinning lifts the home's structure to its original elevation. The process keeps your foundation stable so other issues don't crop up.
In addition to underpinning, we offer a variety of other foundation repair solutions for the people of Gainesville, Georgia, including: helical tiebacks, carbon fiber repairs, and encapsulation. Pressure grouting is a method that is used to fill voids that may have developed under your foundation. This is a simple process in which a grout is injected under the foundation, filling voids to lift and stabilize the foundation. To repair bowing or leaning basement walls, helical tiebacks are an excellent choice. These devices are anchored into the ground next to the wall and attached to the wall. They apply horizontal pressure opposite to the direction of the lean to straighten the wall. Another basement wall repair method involves carbon fiber strips; these strips provide the wall with strength and stability, locking it in place and closing cracks. Atlas Piers offers wall encapsulation to keep your basement or crawlspace dry and safe. This  waterproofing method involves the installation of a vapor barrier along the walls of the crawlspace or basement. The vapor barrier is able to prevent moisture from seeping in, not only leaving the area dry and mold-free, but also leaving the air in the entire home fresher and healthier.
We are your foundation repair service providers for Gainesville, Georgia. We want to help maintain the value of your home and keep you safe. Contact Us today for more information!

View Larger Map