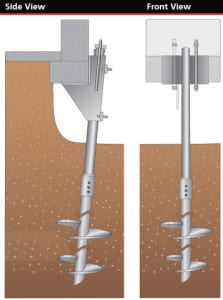 A sturdy foundation is a fundamental requirement for any building, be it commercial or residential. At Atlas Piers of Atlanta, we understand the importance of a solid foundation and offer advanced services in foundation repair and crawlspace encapsulation to the residents of Jacksonville and nearby areas.
Our expertise includes a wide range of foundation issues such as wall fractures and sloping floors, guaranteeing the safety and stability of your structure for years to come. We can assist you in preserving the structural integrity of your property by providing a solution to your foundation problems.
Common Causes of Foundation Problems in Jacksonville
Foundation problems are unfortunately all too common in Jacksonville residences and businesses.
Common issues include cracks in garage columns, leaning or bowing walls, gaps, space, and even water seepage in the basement or crawlspace. These problems can be caused by several factors, such as poor soil conditions, improper foundation installation and lack of maintenance.
If any of these issues are present in your property, it is worth seeking assistance promptly. Fortunately, Atlas Piers of Atlanta can provide you with the expertise and solutions you need to address these concerns. Contact us today to receive a free estimate or to learn more about our services.
Commercial Foundation Repair in Jacksonville, FL
The issue of commercial foundation repair is a crucial matter that should be dealt with as soon as possible. Ignoring foundation problems can lead to irreversible structural damage to your business property. Therefore, it's essential to have a reliable partner by your side, such as Atlas Piers of Atlanta, for commercial foundation repair in Jacksonville, FL.
Our team of experts is wholly dedicated to offering you the best service and repair work possible. We understand how important promptness and efficiency are when it comes to commercial foundation repair. So, reach out to us today for a free consultation and let us assist you in safeguarding your business investment.