Commercial Foundation Repair in Jacksonville Florida
Atlas Piers of Atlanta provides foundation repair and crawlspace encapsulation services to the city of Jacksonville and the surrounding areas. Our services are designed to repair a number of different foundation problems, from wall cracks to sloped floors. Common problems found in Jacksonville homes and businesses include:
water in the basement or crawlspace
If you've noticed these or any other problems in your Jacksonville home or business, contact Atlas Piers of Atlanta immediately. We would be happy to give you more information or a free estimate.
Commercial Foundation Repair in Jacksonville FL
When temperatures change quickly, the ground can either expand or compact quickly.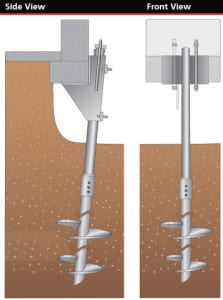 This happens in Florida winters when the ground freezes only overnight. When this happens, soils can weaken. When a business is built, it relies on the ground below it for support. If this ground loses its original strength, it can sink or settle. The business above it may do the same. This is called foundation settlement. Signs of this include sticking doors and windows, cracking floors and walls. If you notice such things happening in your business, don't hesitate to give us a call!
Excessive rain can be a problem, too. Not only can it cause flooding, but it can cause the ground around your business to become over saturated. This will place what is called hydrostatic pressure on your businesses foundation. If this pressure surpasses the load your foundation was built to hold, it may begin to crack. If you think this may be happening in your business, contact us. We will help find a solution to the problem.
When it comes to commercial foundation repair in Jacksonville Florida, we are your go to company. You won't beat our repairs or our customer service!