Foundation Repair Marietta, GA
Marietta is one of Atlanta's largest suburbs, and it has been around much longer than many other local cities. It is home to the Kennesaw Mountain National Battlefield Park, which is a part that preserves a Civil War battleground of the Atlanta Campaign. There are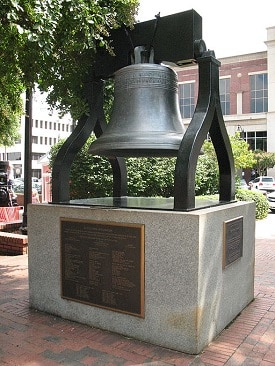 so many other parks, muesums, golf courses, and other sights to see in the area, it is no wonder that Marietta is such a desirable place to work and visit. Atlas Piers of Atlanta is proud to call Marietta a neighbor, and we are the foundation repair Marietta Georgia team those neighbors can count on.
Georgia in general, including Marietta, sees a lot of wet times in the spring and summer. Storms and rain are prevalent in our area. Wet weather can wreak havoc on your home's foundation. Along with loosely compacted soil, excess water can build up around your foundation and put pressure on your foundation walls. This is called hydrostatic pressure. When this happens, the walls to your basement are bound to be affected, and leaning and bowing of those walls can occur. You might also see wall cracks or leaks around these areas of your walls.
Foundation Repair Marietta Georgia
We offer wall anchors, carbon fiber repair, and resistance piers which can all add support to the walls of your foundation. We can come to your home and evaluate your foundation walls, and find the right solution for you at the right budget for you. We pride ourselves in taking each project at face value – treating it as the very individual problem that it is – and designing a solution that is just as individual as the problem is. Each situation is very different.
So call the foundation repair Marietta Georgia team at Atlas Piers of Atlanta. We look forward to keeping the many historical homes and also the many new homes in the best shape they can be from the foundation up. Call us today for more information on how we can help you and your foundation!