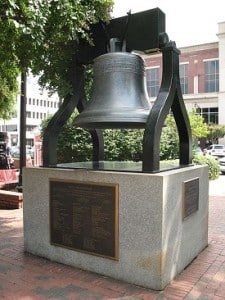 Marietta, GA, is a rich city steeped in history and culture. It's home to the Kennesaw Mountain National Battlefield Park, a site that pays tribute to the battle between the Union and Confederate armies during the Civil War. Visitors can also enjoy other sights such as parks, museums, and golf courses. But with all the beauty and history, the city is not immune to foundation problems. That's where Atlas Piers of Atlanta comes in – we are the foundation repair Marietta Georgia team that local residents and businesses can rely on. Our team is committed to making sure Marietta remains a thriving destination for years to come.
Marietta, GA is a beautiful area to live, but with its seasonal storms and wet weather, homeowners need to be mindful of the state of their home's foundation. Excess water can lead to hydrostatic pressure and weakened bowing walls. In fact, wall cracks and leaks are a potential result of this pressure buildup. Loosely compacted soil is another factor that can contribute to foundation damage. Don't let these issues go untreated – foundation repair in Marietta should be on your radar if you notice any of these warning signs. It's best to contact professionals with expertise in this type of repair to ensure the safety and stability of your home. Protect your foundation and maintain the structural integrity of your home by taking action today.
Our Foundation Repair Services Marietta Georgia
At Atlas Piers, we understand that foundation problems can cause homeowners and business owners significant headaches. That's why we offer a range of solutions, including wall anchors, carbon fiber repair, and resistance piers, to give your foundation the support it needs.
We don't believe in one-size-fits-all solutions; instead, we take the time to evaluate your foundation walls and come up with a personalized solution within your budget. We know that every project is unique, and we approach them all with fresh eyes, ensuring that we find the perfect solution for your problem. Let us help you fix your foundation problems once and for all.
Residential Foundation Repair
As a homeowner, discovering issues with your foundation can be a nerve-wracking experience. Luckily, our team at Atlas Piers of Atlanta is here to help with all of your residential foundation repair needs in Marietta.
We understand that a sturdy foundation is crucial to the safety and longevity of your home, which is why we take every repair project seriously. From sagging floors to cracked walls, our experienced professionals will provide expert solutions tailored to your unique situation. Don't let foundation issues go unaddressed – trust Atlas Piers of Atlanta to restore the stability and security of your home.
Commercial Foundation Repair
The foundation of your commercial property is crucial for its stability and safety, so it's important to have it inspected and maintained regularly. If you're in Marietta and need reliable commercial foundation repair services, look no further than Atlas Piers of Atlanta!
Our team of expert professionals has years of experience in the industry and uses only the highest-quality materials and tools to get the job done right. We've got you covered, from minor cracks and settling to major structural damage. Don't wait until it's too late – contact us today for a consultation and find out how we can help protect your commercial property for years to come!
Call Marrietta's Trusted Foundation Repair Experts
It is crucial to ensure that your home's foundation remains in good condition to maintain the structural integrity of your property. In Marietta, Georgia, Atlas Piers is your go-to solution for all foundation repair needs. We specialize in foundation repair and offer reliable solutions with excellent workmanship.
We comprehend the significance of having a solid and stable foundation, regardless of whether your home is newly built or a historical house. Contact us today, and we'll assist you in keeping your home in great shape, starting from the foundation.