Commercial Foundation Repair in Miami Florida
Atlas Piers of Atlanta provides foundation repair services in Miami. Miami has a tropical monsoon climate with hot, humid summers and short, warm, dry winters. Summer highs are generally in the nineties, with winter lows in the upper fifties. Miami gets about 60 inches of rain every year, much higher than the national average of only 36.5 inches. The wet season comes in May and ends in mid-October. Hot summer days generally cool off in the afternoons when thunderstorms bring a majority of the rain in short, heavy downpours. While the climate is usually greatly enjoyed by those living and visiting Miami, it can pose some potential issues for its businesses. That is why we are here. Atlas Piers is your commercial foundation repair Miami Florida service provider.
Commercial Foundation in Repair Miami FL
Precipitation can be a big problem for Miami businesses. When a lot of rain falls in a short amount of time, the ground doesn't have time to soak it all up. Because of this, the ground will become overly saturated.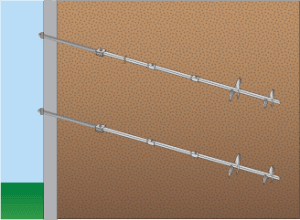 This is very common during Miami summers because of the afternoon rains. The saturation will place what is called hydrostatic pressure on the foundations of commercial buildings. If the amount of pressure surpasses the load that a foundation was built to withstand, it may crack. These cracks can let not only water in, but insects and critters as well. If you notice this happening in your business, especially during the wet season, give us a call! We can use our foundation repair products to give your foundation extra support to handle the hydrostatic pressure. With our help, you won't have to worry about the excessive rain at all!
When it comes to your commercial foundation repair needs, we are your go to company. No matter what your problem, question, or project, we are here for you! Atlas Piers is your premier provider of foundation repair in Miami and the surrounding areas!