Problem: Cracked Foundation

If you are living in a drought area, you may have issues with a cracked foundation. More and more homes are being affected by drought. The drought will cause your home to have a settling foundation and crack because the moisture levels in the soil are diminishing. We have seen affected cracked slabs on grade homes and full basement homes.
Signs that you may have a cracked foundation:
horizontal cracks, often caused by too much water pressure

cracked drywall
vertical cracks that are wider at the top than the bottom
cracks radiating from the corners of windows and doors
If you see any of these signs, call the professionals at Atlas Piers of Atlanta. The sooner you get the settlement problem taken care of, the better. The damage to your foundation will become greater and cost you more money if not taken care of at the first signs of foundation settlement.
Solution: Pressure Grouting
Pressure grouting is a quick process used in place of underpinning in foundation crack repairs. It has many advantages, such as:
quick, easy installation
little mess in your home
low cost
permanently stabilizes soil by filling voids beneath concrete
combats sinking, unstable soil
Solution: Underpinning
For all of your foundation cracks in Atlanta, we offer underpinning to stabilize your foundation and transfer the load from the foundation. All of our foundation solutions create little to no disturbance to the installation site, so there is no need to worry about your landscape. We only install the best foundation repair equipment from Earth Contact Products, so our solutions are durable and affordable. Atlas Piers offers a variety of underpinning solutions, such as:
Push piers, which can be inserted into the ground beneath your preexisting wall. These piers take the pressure your foundation is putting on the loosely packed soil and transfer it to stronger, more stable soil further down. Multiple piers are installed to ensure stability. Steel push piers can be installed with minimal damage to any landscaping you may have around your home.
Helical piers, which are very similar to push piers and can be installed in any weather. In some cases, helical piers can be more reliable than push piers. Helical piers are screwed into the soil instead of being pushed in, which increased their durability and their ability to bear loads. Helical piers can be installed in tight, hard-to-reach places, making them ideal for all repair jobs.
Solution: Crawlspace Encapsulation
Crawlspace encapsulation is often used when the cracks in your foundation are causing water problems in your home. Cracks can let in water and moisture, both of which can cause big problems in your crawlspace.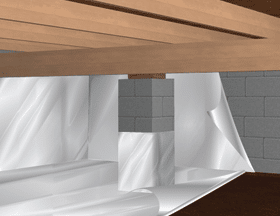 Encapsulation is a simple process that involves installing a vapor barrier, sealing your crawlspace and making it waterproof. This will prevent any moisture coming into your crawlspace. If you've noticed a musty smell or water puddles in and around your crawlspace, you may need Atlas' encapsulation
For all of your foundation repair needs, Atlas Piers of Atlanta can help! We can tackle all your cracked foundation problems in Atlanta. Call us today! We will inspect your cracked foundation and give you an estimate of the cost for repair.