Why is Foundation Repair in Port St. Lucie Florida so important?
Atlas Piers of Atlanta is proud to provide foundation repair and crawlspace encapsulation services to Port St. Lucie, Florida. The city is called a warm humid subtropical climate. Temperatures do not vary too greatly between seasons. Summers are hot and humid, and winters are warm and dry. The summer months are also known as the "wet season" because a majority of the rainfall comes then. Port St. Lucie averages about 58 inches of rainfall every year, much more than the national average of 36.5 inches. This amount of rainfall can actually cause some problems for Port St. Lucie businesses. Atlas Piers is your professional company, here to help with such problems. In fact, we provide residential and commercial foundation repair in Port St. Lucie Florida.
Commercial Foundation Repair Port St. Lucie FL
When a lot of rain falls in a little amount of time, it doesn't get a chance to fully sink into the ground. This can happen during the wet season in Port St. Lucie.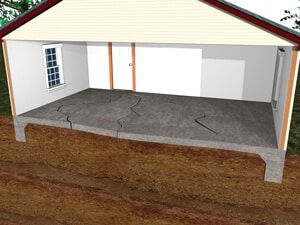 When this occurs, the ground can become overly saturated, which places hydrostatic pressure on the commercial building around it. These business' foundations were built to withstand a certain amount of pressure, but if the load surpasses that amount, the foundation may crack. These cracks let not only the water seep into your home, but they also let in insects and even critters. Don't let this happen to your business. Call us to help with such a problem or even avoid it altogether. With foundation repair products like piers and piles, Atlas Piers can give your foundation support to handle such pressure.
Atlas Piers provides residential and commercial foundation repair in Port St. Lucie Florida. We're professional, friendly, and efficient. Call us today! You won't regret it!