Helical Pier Installation for Foundation Repair
Every home or commercial structure is built to last, no matter where or how it's constructed. The basis for any structure is a solid foundation. Whether they're built on top of solid rock, wet dirt or even sand, every building needs a foundation that will support its weight. Ground anchoring systems such as helical and resistance piers are used in construction and repair projects to strengthen buildings and bolster their structural integrity. If your foundation is crumbling and issues begin to arise, you may need helical pier installation to better support your building or home.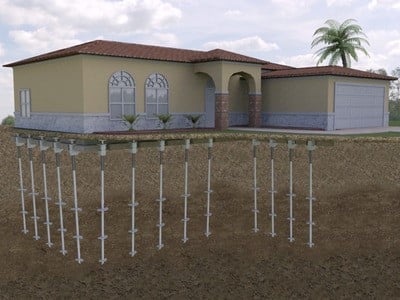 How Do Helical Piers Work?
Helical piers are actually referred to by many different names, including:
Screw anchors
Helical piles
Helical anchors
Fortunately, they all have the same design and work in the same way. Helical piers are large steel shafts with plates welded near the base to create what is essentially a large screw. At the very top of the shaft is a bracket, used to attach the helical pier to a building's foundation.
Helical piers are able to support the foundations of structures in many different conditions due to the screw-like plates welded to their base. Other foundation anchoring systems, like resistance piers, work by transferring the weight of a wall or building onto surrounding bedrock by driving the shaft deep underground. While the bedrock below is solid, it's possible for the resistance shaft to lean or wiggle in the ground.
Because of their screw-like structure, helical piers are more stable. When they are built, the steel plates along the shaft are welded and placed according to the ground conditions of where the pier will be used. The diameter, position, and thickness of the plates are all determined by a combination of:
Load requirement of the structure
Ground material
Risk of corrosion
Projected lifespan of the structure being supported
This level of customization allows helical piers to be designed and produced to support buildings in any climate or soil condition.
Helical Pier Installation
If you're having issues with your foundation, you need to contact Atlas Piers so we can help you get the support you need. We start by looking at the foundation and exploring the possible solutions with you. Our geotechnical specialists are on staff to take everything into account from the weight of your home to the condition of the surrounding soil. Based on this information, we then help you decide if helical pier installation is the next step.
If helical pier installation is the right option, we'll figure out the best locations for the piers and choose the correct size for your foundation. Helical piers allow us to figure out how much weight they can hold before they're even installed, so the process is quick and streamlined.
Premier Foundation Repair and Shoring in Atlanta
A weakening foundation can pose serious problems for you and your home. Look out for issues such as:
Sticking windows
Sticking doors
Wall cracks
Leaning chimney
Bowing walls
Leaning walls
Sinking garage
Sloped floors
If you or your family notice any signs of foundation failure, contact the professionals at Atlas Piers of Atlanta today. For more than 30 years we've specialized in foundation support and, in particular, piering. We make it our mission to provide Georgia clients with top-of-the-line service solutions and a better peace of mind.
Call (770) 268-0369 for more information or to schedule an appointment.