Problem: Leaning Walls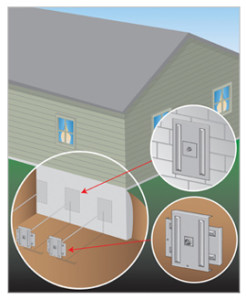 Leaning walls can be a hazardous problem in your Atlanta home. You may notice leaning walls in your basement near floor or wall cracks, and sticking doors and windows are commonly associated with leaning walls as well. Leaning walls are often caused by too much pressure from expanding or shifting soil. It is important to have a professional team, such as Atlas Piers, inspect these walls instead of trying to support or repair them yourself. Leaning walls often signify a much bigger problem, such as a sinking foundation, and unless you look at the bigger picture, the problem will continue to get worse, even after the wall is supported.
Solution: Resistance Piers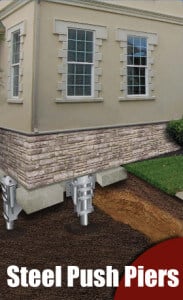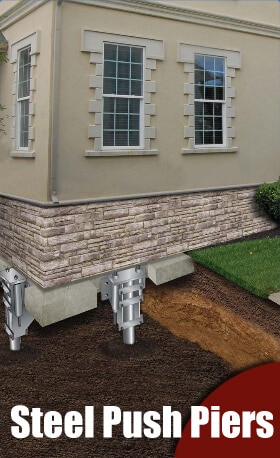 Atlas offers a special resistance pier, or steel push pier, product that would be very helpful for this problem. The Atlas Resistance® Pier is a manufactured, two-stage product designed specifically to produce structural support strength. Atlas Piers tests these piers to a greater force than the load that will be put on them so that you can rest assured that they will provide the strength needed to support your structure. Resistance piers can be installed in a variety of weather conditions and cause little disturbance to your home and landscaping. Resistance piers will support your home and provide protection from heavy soils that are pushing in on your walls and foundation.
Solution: Wall Anchors
You may want to look into wall plate anchors as one of the solutions to your poured or block concrete walls that are leaning inward or bowed.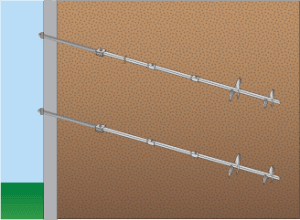 These anchors will be driven into the ground soil in your yard to an anchor on your basement wall. They supply your walls with additional support when wet, expanding, or shifting soil is pushing in. The soil around your home is likely pushing in on your walls, causing extra pressure that makes them lean and bow. This extra pressure can be evenly distributed with the help of wall anchors.
Wall anchors are great because:
Minimal commotion to your home and your yard
Installed in a timely manner
All weather installation
Cost effective, meaning you save money
Easily concealed
Alternative to removing and replacing your foundation walls
Solution: Carbon Fiber Repairs
Another innovated way to repair walls that lean or bow is to use our specialty treatment of carbon fiber repair. If you are someone who finds "green" home improvements to be important than this might be the solution for you. Carbon fiber reinforcement is a durable engineered system to repair bowing and leaning walls. Call us for more information on this remarkable way to strengthen your walls. It is a very reliable, safe, and cost-effective solution for many homeowners, we can look at your home and see if this fix is right for you.
Atlas Piers is proud to offer many solutions for your leaning walls. We use only the highest quality ECP products. If you find leaning walls in your home, don't wait till it becomes a serious problem. We gladly fix all leaning walls in the Atlanta Georgia area that are in need of foundation repair. Call us today to get an estimate!