Problem: Cracked Concrete
Mudjacking is a solution used to fix a variety of different problems with your concrete and masonry. These problems may include:
cracked concrete
shifting driveway or sidewalks
porch pulling away from home
gaps or holes in driveway or sidewalks
cracked slab or foundation
Concrete can be a durable material to use in your walkways, pools, and other hardscaping, however, it is subject to the elements. Poorly compacted soil beneath your concrete may account for some of the problems you experience with cracks and gaps. Excess moisture may be pooling beneath your concrete and causing the cracks. Whatever the cause, Atlas Piers of Atlanta offers quality mudjacking for your Georgia home.
Solution: Mudjacking

Sometimes there are voids underneath your driveway or sidewalks. These need to be safely filled in to avoid any further damage to them, otherwise they will settle and cause additional damage. Mudjacking is the process where grout is pumped into the voids under concrete to fill and lift those areas. You can use mudjacking on driveways, walkways, pools and decks. Usually the concrete is no more than 3 to 6 inches thick when mudjacking is used as a solution. Concrete grout is used to fill these gaps and keep more cracks from appearing.
We can use mudjacking with other concrete repair solutions like as crack repair via injections of epoxy resins or polyurethane, or concrete grouting.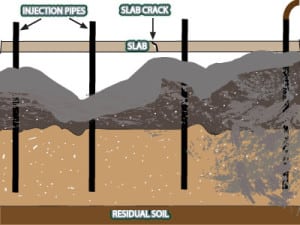 We offer all these solutions and can take a look at your concrete problems and find the best solution to fit your very specific needs. Mudjacking can be used in a variety of situations, is highly durable, and is easily installed. There will be little to no mess around your home, and you will be able to rest easy knowing that your walkways are safe for pedestrians.
A cracked or uneven concrete surface can dramatically decrease the value of your home, and can seriously threaten the safety of you, your family, and neighbors. We will be more than happy to install of our Earth Contact Products, which are durable and affordable. They provide immediate stabilization, and a permanent solution to your foundation or concrete problem.
Solution: Slab Brackets
Another option could very well be an underpinning option such as slab brackets. Slab brackets are a permanent solution installed directly beneath your concrete, whether it be your foundation's slab or your driveway. These brackets are made of a durable steel and are produced by ECP.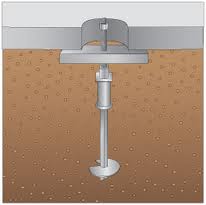 Atlas Piers can install these slab brackets to help lift your slab. Similarly to to helical piers, slab brackets can pull your foundation up to its original position and keep it from sinking further despite the unstable soil that shifts beneath it.
Contact us today for more information on our mudjacking solutions as well as all our other concrete repair in Atlanta solutions. We have free estimates for our customers, so call us today to get started with your concrete repairs. Keep your home beautiful and your curb value high with all our repair options. We can help keep your property value high and your driveway and walkways safe for you and everyone around you.