The weather in Roswell, Georgia can be quite severe, with extreme fluctuations throughout the year. Due to these seasonal changes, the soil tends to expand and shrink. As a result, some homes in the area may face foundation issues, which can lead to doors that stick or windows that are difficult to open. It is crucial to act promptly if you notice any of these signs in your home to prevent the problem from escalating.
Luckily, Atlas Piers of Atlanta is available to help. We utilize the latest foundation repair technology and high-quality products to repair your home swiftly and efficiently, ensuring its safety and stability for years to come. Don't let foundation issues go untreated any longer. Contact Atlas Piers of Atlanta today.
Signs of Foundation Damage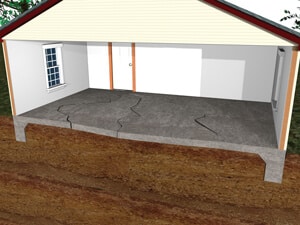 As a homeowner, foundation damage can be a critical issue that requires immediate attention. If not resolved promptly, it can lead to long-term and costly problems. At Atlas Piers of Atlanta, we understand the importance of identifying potential issues, and we are always available to help you in this regard.
Some of the common signs of foundation damage include walls that lean and bow, stoops and porches that pull away from the foundation, leaning chimneys, sticking doors and windows, sloping floors, foundation cracks, wall cracks and tile and floor cracks. By keeping an eye out for these symptoms and seeking professional help as soon as possible, you can protect your home's foundation and avoid costly repairs in the future.
Foundation Repair Solutions for Roswell, Georgia
At Atlas Piers of Atlanta, we understand how important it is to have a sturdy foundation for your home. We offer foundation repair solutions for homeowners in Roswell, Georgia, with a range of options to suit their specific needs. One of our most reliable and effective methods is underpinning with helical piers.
Unlike traditional solutions that rely solely on the soil beneath your home, our helical piers are driven deep into the ground to reach a more stable support system. These piers can lift even heavy structures like garage columns, chimneys, and porches back to their original position, while providing essential support.
Our team of experts is experienced in working with different types of piers, such as steel push piers, porch piers, slab piers and more. Please contact us today to learn more about how we can help you provide a safe and stable foundation for your home.
Carbon Fiber Repair
We offer a very special option for our Georgia service area. There is a way to support your bowing and leaning walls that is a "green" option for your family. We offer carbon fiber repair which uses carbon fiber strips to add strength and stability to your bowing and leaning walls. This is a great solution because carbon fiber is very strong, but it is also very earth friendly. Contact us for more information!
Helical Tiebacks
Helical tiebacks are often used to repair bowing or leaning walls. These devices are anchored into the ground next to the wall and attached to the wall. They apply horizontal pressure opposite to the direction of the lean to straighten the wall.
Contact Us Today for A Free Foundation Repair Consultation
If you're worried about the foundation of your home, don't hesitate to take action. Contact us at Atlas Piers of Atlanta for a free foundation repair consultation in Roswell, Georgia. Our team of experts has years of experience in providing lasting solutions to foundation repair problems.
We offer a variety of services tailored to your specific needs and strive to provide the highest quality repair services possible. So why wait? Get in touch with us today and schedule your consultation. We're eager to help you find the best solution for your foundation repair needs.