Problem: Sinking Garage
Garages, just like homes and businesses, tend to sink or settle over time. This can be caused by numerous factors, such as soil compaction at the time of construction, or heavy rains that make soil heave and expand.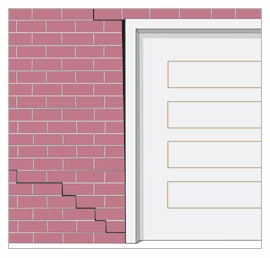 Whatever the cause, a sinking garage is a safety hazard to you and your family. Sinking garages may also have these problems:
cracked floors
small pools of water near cracks
A sinking garage must be fixed by professionals such as the ones at Atlas Piers of Atlanta.

Solution: Underpinning
Underpinning is a common solution employed when a garage is settling. One of our solutions to garage settlement is steel push piers. Designed to support large structures, steel piers are an effective solution for a settling garage. Steel piers will stabilize your garages foundation and even lift and hold your sinking floor to its designed elevation. This will prevent any future settling of soil to hurt your garage. Another option is helical slab piers.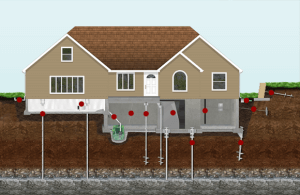 This is a great solution for porches, garages, and other slabs. For installation of a helical slab pier, installers will drill a small hole in the concrete slab and then through that small hole,  install the helical pier. Atlas Piers installs Helical slab piers with capacities up to 20,000 lbs, so you can be sure that it will handle the weight of your garage slab. Helical and push piers can resolve many of the issues that come with a sinking garage such as garage column cracks, and they can be installed in any weather condition.
Solution: Pressure Grouting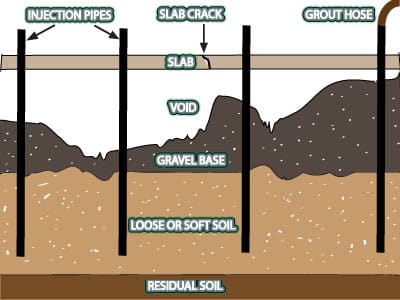 Pressure grouting can be performed if there are large voids under your garage causing settlement. Holes will be driven through the slab.  A grout hose is inserted. Then under high pressure cement grout is forced through the hose and pipe into the voids underneath the slab. This process with fill the void and strengthen the ground underneath your slab. This is a great way to improve the stability of the ground beneath your slab for many years to come. It will improve the value of your home and help keep safe everything you store in your garage.
Atlas Piers of Atlanta can assist you in any foundation repair need you may have. Don't wait for the problem to get worse. Take care of it as soon as possible.