Is Carbon Fiber Right for My Home?
Carbon Fiber Georgia
What causes bowing, cracking, and bulging walls? There are many reasons why walls might bow, bulge or crack. This is usually caused by soil pressure. If there is too much moisture in the soil around your foundation, then it can affect your foundation walls. Inadequate waterproofing, poor drainage, and soil compaction can also cause walls to bulge. At Atlas Piers, we can repair your foundation by installing carbon fiber to fix your foundation. We are your carbon fiber Georgia service provider.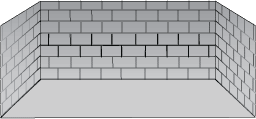 What is carbon fiber? Carbon fiber is a high-strength woven fiber strip that will not break and stretch. A few years ago, carbon fiber was exclusively used in military and aerospace. Today carbon fiber is produced in large quantities and used in the residential, commercial, and industrial industry. Instead of using steel to repair structural damages, carbon fiber is an alternative solution. We use trusted products from Earth Contact Productions (ECP). ECP offers the best products for foundation repair.
How is carbon fiber installed? It is quick and simple to install. Carbon fiber is the best solution for certain types of foundation repairs. Our ECP carbon fiber basement repair products consist of a repair kit for bowing wall laminate, bowing wall fabric, wall crack repair, and floor stitching repair.  Our professional team will install carbon laminate straps on the basement wall. The straps are glued onto the walls with an epoxy resin. By using these straps, the pressure is absorbed from the walls. This technique will eliminate floor damages compared to other installations.  They are designed to work well on poured concrete and concrete block foundations. The installation takes less than a day to complete. It is quick and easy. At Atlas Piers, we can be your carbon fiber Georgia team.
Carbon Fiber Atlanta
In Atlanta, using carbon fiber offers your home many advantages. You don't have to leave the premises when we install your carbon fiber. You can relax in your own home without a big mess or obstructions in your basement.
Is carbon fiber safe for my home? Yes, carbon fiber is completely safe. The material will not rust or weaken over time. If your basement gets hot, don't worry. Carbon fiber can withstand the highest temperatures. It requires no maintenance. If you have moisture in your basement, carbon fiber will not be affected by mold and mildew.
At Atlas Piers, we use carbon fiber because it is gives our clients an option to paint or use drywall after carbon fiber installation.  Also, your home can resale at a higher value with carbon fiber structural repairs.
If you need to fix your structural foundation, contact Atlas Piers today. Operating for over 20 years, we will price match and beat any competitor. We are certified professionals here to serve you in a wide service area. Call  Atlas Piers so we can be your carbon fiber Georgia team!