Dry Crawlspace Equals Clean Air
The Dangers of a Damp Crawlspace Atlanta
Many homes built with a crawlspace foundation suffer from poor moisture management. Unwanted moisture creeps through the walls of your crawlspace from the soil under and around your home. Due to varying temperatures and moisture levels, crawlspaces can even develop cracks the let in more water and unwanted pests. Though crawlspaces seem unimportant to the overall structure of your home, they can play a big part when it comes to the quality of air you breathe and the value of your home. Crawlspace encapsulation Atlanta is an easy solution for managing your crawlspace.
When moisture seeps into your crawlspace, it creates a perfect environment for mold and mildew growth. Damp crawlspace Atlanta situations can foster all sorts of harmful bacteria and germs. This bacteria and mold can affect the air you breathe, contaminating it and creating a dangerous health concern for you and your family. Not only does it pose a serious threat to the air you breathe, it can dramatically decrease the value of your home. A humid crawlspace is not the sign of a healthy home. In order to maintain your home's value and a healthy living style, consider crawlspace encapsulation Atlanta to repair your crawlspace.
Crawlspace Encapsulation Atlanta
Crawlspace encapsulation is a relatively new technology used to decrease the amount of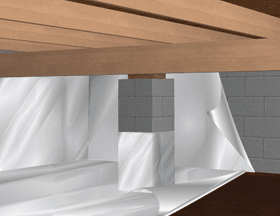 moisture in your crawlspace. It completely isolates the crawlspace from the ground and the outside air with vapor barriers. A vapor barrier provides a layer of protection against the amount of moisture and radon present in the crawlspace. It completely isolates the interior of the crawlspace from the outside conditions, covering the walls and floor. Typically, either a dehumidifier or a crawl space conditioning system is installed to clear the air in the crawlspace.
Common signs of a damp crawlspace Atlanta include mold or moisture damage, musty odors, buckled hardwood floors, insect infestations, condensation on pipes, air conditioning, or insulation, and high humidity in your living area. Mostly, these signs are noticeable during the spring and summer seasons, but they can occur at any time of the year. Many residents are tempted to contact their heating and air conditioning contractors, but they have little influence over the problem. In order to truly waterproof your crawlspace, contact one of the experts here at Atlas Piers Foundation Repair. We have a wide variety of crawlspace encapsulation Atlanta solutions.
A damp crawlspace is a danger to your health and your home. It is important to protect your possessions and foundation from water damage, and keep your air free of mold contamination. Here at Atlas Piers Foundation Repair, we will be more than happy to come assess your situation, give you a free estimate, and provide you with the best damp crawlspace Atlanta solution. Allow us to install your vapor barrier and encapsulation solutions. We only use the "very best" in foundation repair tools from Earth Contact Products. This foundation repair and waterproofing equipment works wonders, and is guaranteed to last. We will be more than happy to service your crawlspace encapsulation Atlanta needs. Contact us today for more information!