Foundation Repair in Mount Pleasant South Carolina
Atlas Piers of Atlanta is proud to provide foundation repair services to the city of Mount Pleasant. Mount Pleasant is a part of the humid subtropical climate zone. The area experiences hot, humid summers and mild winters.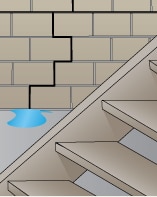 About 48 inches of rain fall every year in Mount Pleasant, quite a bit compared to the national average of 36.5 inches. Though the climate is generally enjoyed by those living in Mount Pleasant, it can cause some problems for its business' foundations. That's why we are here. Atlas Piers is available to provide quality foundation repair in Mount Pleasant South Carolina. Whether you need underpinning, tiebacks, or any of our other services, we are here to help keep your home stable.
Foundation Repair Solutions for Mount Pleasant South Carolina
When an area receives a lot of rain, the ground around your home can become especially saturated. This saturation can place hydrostatic pressure on your commercial building's foundation. If this pressure becomes too much for the foundation to bear, it may begin to crack. The cracks will not only let the water from the surrounding soils in, but also insects and sometimes even critters into your business. If you think this may be happening in your business, especially after a heavy rain, give us a call! If you just want to avoid such a problem, we can help with that, too! Using our professional foundation repair products like piles and piers, we will give your foundation the support it needs to withstand this hydrostatic pressure.
Atlas Piers of Atlanta offers a variety of solutions for your foundation repair problems. They include:
underpinning. 

Atlas can install helical or resistance piers to help lift your foundation and prevent future sinking and cracking.

carbon fiber strip installation. Carbon fiber strips are applied directly to your walls to strengthen bowing and leaning walls or repair wall cracks.
helical tieback installation. Helical tiebacks are inserted through your walls and into the soil outside. These are used to relieve your walls of excess pressure from heavy, water-logged soil, and they can also straighten bowing and leaning walls.
No matter what your commercial foundation repair problem, we are here to help! Our main goal is to maintain the value of your commercial building and keep you and your employees safe! We are your experts for residential and commercial foundation repair in Mount Pleasant South Carolina! Contact us to help with your next project, question, or problem! We'll be happy to help!