Residential Commercial Foundation Repair in St. Petersburg Florida
St. Petersburg is a beautiful city in Florida. St. Petersburg has a humid subtropical climate, but almost has a tropical savanna climate. The city has a definite rainy season from June to September and receives about 53 inches of rain every year. When you compare that to the national average of only 36.5 inches, you realize just how much rain St. Petersburg really receives. Various seasons bring a slight change in temperature. Summer highs are in the nineties, while winter lows are in the fifties. St. Petersburg's climate can actually cause some problems for businesses in the area. That's where we come in. Atlas Piers is your commercial foundation repair St. Petersburg Florida service provider.
Foundation Repair Solutions in St. Petersburg
Precipitation can pose some issues for St. Petersburg homes. When a good amount of rain falls in a short amount of time, the ground doesn't get a chance to soak it all up. When this is the case, the ground can become overly saturated. This becomes common during the wet seasons in St. Petersburg. The saturation will then put what is called hydrostatic pressure on your business' foundation.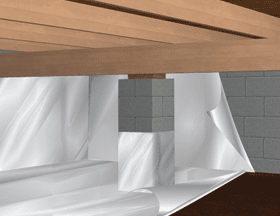 When a foundation is built, it is made to withstand a certain amount of pressure. If this load surpasses that amount, the foundation may begin to crack, letting in water, insects, and even critters.  If this is happening in your commercial building, contact us as soon as you can! We can use our professional commercial foundation repair products to secure your foundation by giving it extra support. You won't have to worry about heavy rains any longer! This is why Atlas offers quality crawlspace encapsulation services, to better protect your home's foundation from the water outside.
When it comes to commercial foundation repair in St. Petersburg, we are the best company in the area. You can come to us with any of your commercial foundation repair problems, questions, or projects! We will be happy to help you out in any way we can! We are experts at foundation repair in St. Petersburg Florida! Contact Us for more information.