The Leaning Tower of Pisa
The Leaning Tower of Pisa is one of the world's most recognizable structures, best known for its titular lean. Located in the Italian town of Pisa, the tower's famous tilt has been the focus of many engineers and architects for centuries. Thanks to modern foundation techniques, the tower will likely stand for centuries more.
Loose Foundations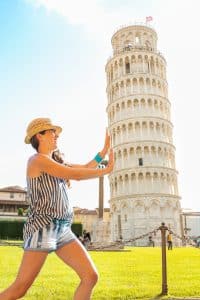 The foundations of the tower were first laid in August of 1173. Work on the ground floor began only a few days later. By the time construction had progressed to the second floor, in 1178, the tower had already begun to sink. Pisa's engineers had opted to build the structure on a measly 10-foot foundation which was set in shifting, unstable subsoil. Before adjustments could be made, construction was halted for nearly 100 years as the Republic of Pisa faced nearly constant conflict with neighboring Genoa, Lucca and Florence. This turn of events was actually beneficial to the Leaning Tower as it allowed the soil foundation to settle.
Construction resumed in 1272 under a new architect. Engineers attempted to compensate for the tilt of the tower by building the walls of the upper floors with one side taller than the other. Because of this, the finished tower is now slightly curved. Construction was halted by war, yet again, in 1284. The tower was finally completed in 1370 with the addition of the eighth story.
Modern Correction Attempts
Modern engineers began measuring the tower's slow decline into the Italian soil in 1911. Over the next several decades many engineers attempted to develop a way to right the Leaning Tower, with little success. Many assumed that the tower would fall by the end of the 20th century. By the 1990s the tower was recorded to be falling at a rate of about half an inch per year.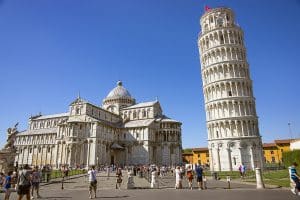 The tower closed to the public in January of 1990 to begin a decade-long restoration project. Nearly 1,500 cubic feet of soil was removed from underneath the raised edge of the tower in order to balance out both sides and lead counterweights were added. The Leaning Tower was reopened to the public in December 2001. In May 2008, engineers reported that the tower had stopped moving for the first time in history. It is now expected to stand for at least another 200 years.
Foundation Experts in Atlanta
Whether it's an international tourist attraction, office building or residential property, every building is built on a strong foundation. Atlas Piers of Atlanta is an installation contracting company specializing in steel foundation products. From small residential jobs to complex commercial projects, Atlas Piers has successfully installed a wide range of custom engineered solutions. Contact us today to schedule a free appointment.