Commercial Foundation Repair in Madison Alabama
Madison is a beautiful city in Alabama, and Atlas Piers of Atlanta is proud to provide foundation repair services in Madison. Winters bring lows reaching into the thirties, while summers see temperatures in the nineties. Madison receives about 56 inches of rainfall every year, much higher than the national average of 36.5 inches. While this weather is generally enjoyed by the residents of Madison, it can bring about some potential issues for the buildings in the city. We are here to help you with such problems. Atlas Piers is your commercial foundation repair Madison Alabama service provider.
Commercial Foundation Repair in Madison AL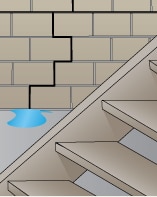 As temperatures change, the ground does too. Heat makes the soils expand, while colder temperatures make it compact. The more this occurs, and the more quickly it happens, the weaker soils become. Your business is constructed on top of these soils, so when they lose their original strength, it can be a problem for the business' foundation. Once the soil begins to sink or settle, the structure on top may do the same. Signs of foundation settlement include sticking doors and windows, sloping floors, cracking walls and floors, and a leaning chimney. If you notice these occurring in your business, give us a call as soon as you can!
A large amount of precipitation can cause problems, too. When the ground by your business becomes extra saturated, it can place hydrostatic pressure on your foundation. Your foundation is built to withstand so much pressure, but at a certain point, it will not be able to take the load. This will cause your foundation to crack. These cracks can let in water, insects, and even critters. Don't let this be a problem for your business. Call us to help before the issue worsens.
Crawlspace Encapsulation and Repair in Madison, Alabama
Atlas Piers also provides wall encapsulation services to keep your crawlspace dry and healthy. Installing a vapor barrier to seal out moisture will improve the air quality in your crawlspace and prevent further water damage to the structure. If you have a moisture issue in your crawlspace, it could result in mold growth, wood rot, metal rust, wet insulation, and high humidity. These problems not only compromise the health and safety of your home, but can also lead to health issues for you and your family. Atlas Piers also provides crawlspace underpinning. This services improves structural stability by providing the foundation with adequate support and stabilization. These are just some of the quality foundation repair services that we offer at Atlas Piers.
We are your foundation repair Madison Alabama professionals! We're here to help with all of your commercial foundation repair needs, problems, and projects. Call us today!

View Larger Map