Why is Foundation Repair in Orlando Florida so Important?
Atlas Piers of Atlanta is proud to provide foundation repair services in Orlando, Florida. Though Orlando has many characteristics of a tropical climate, it is still considered a part of the humid subtropical climate zone. There are two main seasons in Florida: a hot and rainy season May through September and a dry and relatively cool season October through April. Average July highs are in the nineties. Average January lows are in the fifties. The city receives about 51 inches of rain every year, much more than the national average of 36.5 inches.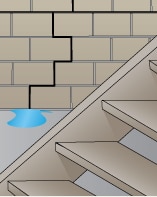 This amount of rain can actually be a problem for some Orlando businesses. Our company is here to help with those problems. We, at Atlas Piers, are your commercial foundation repair Orlando Florida service provider.
If you've noticed problems such as bowing walls, cracked floors, a leaning chimney, or water in your basement or crawlspace, you may benefit from a call to Atlas Piers of Atlanta.
Foundation Repair Solutions in Orlando Florida
When a lot of rain falls in  a short amount of time (Orlando's rainy season,) it can cause the ground to become overly saturated. When this happens, hydrostatic pressure is placed on your commercial building. Your business' foundation was built to withstand a certain amount of pressure, but if the load surpasses that amount, it may begin to crack. These cracks can let in unwanted water, insects, and critters. If you want to avoid such a problem, we can help. With our professional foundation repair products, we can give your foundation the support it needs to withstand the pressure of the water. Heavy rainfalls will be the least of your worries. Call us today! We'll come check out your problem and help come up with the best possible solution!
No matter what yourcommercial foundation repair needs, we are here for you! Atlas Piers is the best service provider of foundation repair in Orlando Florida. Contact us! You'll be happy you did!