Commercial Foundation Repair in Wilmington North Carolina
Due to Wilmington's proximity to the Atlantic Ocean it is normal for this area to be hit by tropical cyclones. About 40% of the annual rainfall is delivered from July to September, and it is not uncommon during this time for Wilmington to get 7 inches of rain per month. All of this rain puts pressure onto the walls and floors of your business' foundation and can cause cracking in your walls, bowing walls, or a sinking foundation. These are easily fixable problems, and Atlas Piers can help with all of them. No matter what your problem may be, Atlas Piers can help your commercial foundation repair Wilmington North Carolina be carried out.
Foundation Repair Solutions in Wilmington North Carolina
It is normal to feel a little panicked when you notice foundation failure in your business, but there's no need to stress. Atlas Piers is just a call away, and will help in any way they can to keep your commercial building safe and sound. Atlas Piers is a professional team with years of experience in foundation repair. If you notice any signs of foundation failure, call us right away. If you don't know what to look for, watch for these signs of foundation failure and settlement:
■Doors and windows that stick
■Cracks in walls, floors, or drywall
■Leaning and bowing walls
■Breaking windows
■Water stains on walls and floors
■Exterior foundation cracks
If you notice any of these signs there's no reason to worry, as long as you don't ignore them. Atlas Piers will do the foundation repair in Wilmington, NC. Don't hesitate to pick up the phone and give us a call. Our qualified staff would like to meet with your and create the design that will provide you with a foundation solution.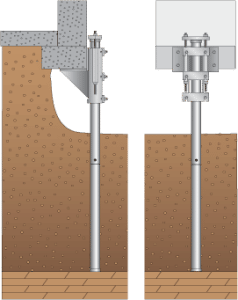 Helical piers and steel push piers are products that can provide you with the much needed strength and stability to lift your foundation back up to the recommended elevation. If you are seeing bowing wall or leaning walls, we might suggest the addition of carbon fiber sheeting. The carbon fiber is another way to add strength to a wall that has failed to keep its original design. Once on the wall, you can add top layers to make it fit in with your own decor. There is no reason to wait on foundation repairs. Your business is a big investment, and Atlas Piers plans on helping you keep its foundation in great shape. This will keep the value of your commercial building up and your employees safe and sound. Foundation repair in Wilmington, NC is worth the investment.
In addition to helical piers and carbon fiber repairs, Atlas Piers offers several other foundation repair solutions. For foundation underpinning, we offer several types of piers besides helical piers and steel push piers. These include: micropiles, new construction piers, and slab piers. We also offer helical tieback installation. Helical tiebacks are used to straighten bowing or leaning foundation walls. These tiebacks are anchored into the ground adjacent to the affected wall. Next, they apply a horizontal force that is equal and opposite to the direction of the lean. We are also experts in wall encapsulation. This is a process that involves installing a vapor barrier around the walls of a crawlspace or basement. This vapor barrier seals out moisture to keep the area dry. Not only does it keep the area dry, however, but it also keeps he air in the entire structure cleaner, which in turn keeps both you and your customers healthier.
So no matter what solution is needed to keep your foundation up-to-date, we can provide it. We're a simple call away, and we'll help in any way we can. No matter what, we have you covered. Call Atlas Piers of Atlanta, your provider of foundation repair in Wilmington North Carolina.